News
Jamaica Nurses Group of New York honors outstanding three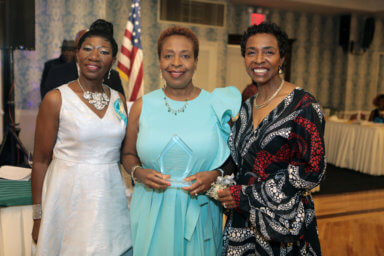 The Jamaica Nurses Group of New York (JNGNY) on Sept. 18 honored three outstanding nationals at its Diamond Jubilee Anniversary and Scholarship Award Luncheon at Antun's in Jamaica, Queens.
The honorees were: Former JUNGNY President Claudette Powell, RN, MA – Distinguished Leadership and International Leadership; Dr. Pamella Hay Hosang, Ed. D – 60th Nursing Education and Service; and Dr. Karren Dunkley, Ed. D – Trailblazing Leadership and International Service.
The 2022 JNGNY 1962 Founding Members Scholarship awardees were: Nursing Students – Zonika A. Tracey, York College, City University of Nes York (CUNY); and Rosemarie Dora Gordon, Brown's Town Community College, St. Ann, Jamaica.
The gala event, which commemorated JNGNY'60 years as the oldest Caribbean nursing organization in New York, was held under the patronage of Consul General of Jamaica to New York Alison Wilson; Congresswoman Yvette D. Clarke, daughter of Jamaican immigrants; Queens Borough President Donavan Richards, whose father hails from Jamaica; and Representative Kareen Dunkley, Global Jamaica Diaspora Council NE, USA.
The ceremony attracted more than 250 guests, according to JNGNY President, Dr. Claudette McFarquhar.
She said the JNGNY 1962 Founding Members Scholarship is awarded annually to two nursing students — one in New York and the other in Jamaica.
Dr. McFarquhar told Caribbean Life that they are evaluated on a financial needs-basis.
"Students meet the criteria by being enrolled in an accredited nursing program," she said. "They submit an essay, their GPA (Grade Point Average) and recommendations from their school or community."
Tracey said she was "humbled and honored to have received this scholarship especially now, as Jamaica celebrates its Diamond Jubilee.
"It demonstrates to me that the JNGNY, Inc.'s mantra of caring at home and abroad applies not only to the sick but (to) the community, students and nurses like me who are overseas," she told Caribbean Life.
Powell said she was "grateful to receive the Distinguished Leadership and International Service Award.
"Although I did not expect to be rewarded for my attributes and service, I'm delighted that my colleagues appreciate what I do," added Powell, who has been a JNGNY member for over two decades and held the presidency for three terms.
Dr. Hosang said it felt "good to be recognized by my peers.
"I am very grateful and feel appreciated," added Hosang, former deputy and chairperson in the Department of Nursing at Medgar Evers College, CUNY, who migrated to New York City in 1963.
Dr. Hosang worked as a staff nurse at Beth Israel Hospital and Evening Supervisor at Interfaith Hospital in Brooklyn before pursuing advanced education to realize her goals of an academic pathway.
She graduated from Kingston Public Hospital School of Nursing in 1956 and, later, as a certified midwife in 1958.
After five years in Jamaica, she left for Toronto General Hospital, Canada, and then to New York City, where she completed the requirements for licensure in New York State.
Dr. Hosang attended Teachers College, Columbia University, where she earned a baccalaureate degree in 1964 and, subsequently, three other degrees – a B.S., Ed.M. and Ed. D.
Most of her working years were spent in education. Her first teaching assignment was at the New York City School of Practical Nursing, Manpower Development Training Program.
After completing her master's degree, Dr. Hosang was offered a faculty position at Columbia University School of Nursing, where she remained for seven years.
While pursuing full-time doctoral studies, she worked as Adjunct Professor at Herbert H. Lehman College, CUNY, and Long Island University.
Her last professorial appointment was at Medgar Evers College, where she coordinated the BSN in Nursing. While there, she authored the Proposal for the Evening/Weekend Articulation Program for ADN-BSN Degree that was adopted in 1992.
At Harlem Hospital, as a curriculum consultant, Dr. Hosang revised and updated the curriculum for the Nurse Anesthesia Program and co-authored the Self Study Report that facilitated their first full accreditation in 1987.  Dr. Hosang has served as an Accreditation Site Visitor for the National League for Nursing (NLN) Community Health Accreditation Program (CHAP) and as a reviewer for the Journal of Public Health Nursing for F. A. Davis Publishers.
In 1994 the Academic Board of the University of Technology, Jamaica invited her to be an external examiner in the faculty of Health and Applied Science for four years.
The purpose was to evaluate the Public Health Nursing Program that had recently come under the University umbrella as a degree-granting program.
Dr. Dunkley is a public intellectual, strategist, intercultural competency/leadership coach, and internationally recognized educator, who has served in various high-level leadership positions in New York City and Philadelphia.
She has enjoyed a life of service in education as an urban district deputy superintendent, principal, teacher and coach.
Dr. Dunkley catapulted into the United States' consciousness in 2011 when she addressed a standing-room-only crowd on Capitol Hill in Washington, D.C., at the Congressional briefing on the Family Engagement in Education Act, regarding the importance of family engagement in transforming urban schools and increasing student achievement.
She has lectured at several colleges and universities across the United States and the Caribbean, presented and facilitated at national conferences, and served on the Education Transition Team for recently elected Mayor of New York City Eric Adams.
Since January 2020, Dr. Dunkley has served as the Global Jamaica Diaspora Council Representative for 14 states in the Northeast United States.
In this role, she has made enormous and measurable contributions to advancing Jamaica's national development and partnerships around the 17 United Nations Sustainable Development Goals.
She holds a doctorate in Urban Education, with a concentration in organization and leadership, from Teachers College, Columbia University; master's degrees in political science and education leadership from St. John's University and Columbia University, respectively, and a bachelor's degree in political science, with a minor in education from St. John's University.
Dr. Dunkley is a certified intercultural competency development practitioner and a Columbia Coaching Certification Program graduate.
She is the founder, principal and chief executive officer of KND Consulting, LLC, an organizational leadership and development company specializing in operational efficiency and advancing individuals' and organizations' capacities and competencies "to ensure equity, access, diversity, inclusion and excellence aligned with core strategic goals."
The career and experience of Powell, a registered professional nurse, span many years in health care administration, health education and advocacy.
Currently, Powell is a health care consultant specializing in health care regulations, compliance and accreditation.
Powell said she is "integrally involved" in promoting healthcare in her native Jamaica.
In November 2010, she participated at the Jamaica 2030 Health Care Vision Forum, in Minnesota, with officials from the Jamaican Ministry of Health, other stakeholders and Friends of Jamaica, to develop the framework for improving the public health system.
In October 2011, Powell led the United States delegation at the International Healthcare Fact Finding Mission to the public hospitals and health centers in Jamaica.
She is instrumental in spearheading health initiatives and procurement of medical equipment and supplies to Jamaica.
In October 2021, Powell served on the planning committee and served as the lead nurse for a COVID-19 mission at Savannah La Mar Hospital in Westmoreland, Jamaica.
At present, she chairs the Jamaica Diaspora Northeast Health Sector comprising individuals who are interested in the health and welfare of Jamaicans at home and abroad.
Powell is also professionally affiliated with a number of organizations in various capacities including JNGNY, where she served two terms as the president and currently serving as the public relations officer.
She served as president of the Caribbean American Nurses Association and currently serves as treasurer.
In addition, Powell is currently vice president of St. Hugh's Alumni Association New York Chapter, vice president Guyana-Jamaica Friendship Association and a member of the Union of Jamaican Alumni Association.
Powell received her Bachelor of Science Degree in Nursing from Long Island University and holds a Master of Arts Degree in Nursing Administration from New York University.
Dr. McFarquhar said JNGNY is a voluntary organization with the goal to achieve professional and cultural advancement.
She said JNGNY's goal and mantra are being realized through several objectives, including: Providing a medium of communication among Jamaican nurses residing in the United States of America, and members of the national and international nursing committees abroad; facilitating contact with fraternal and other organizations; providing "a spirit of comradeship" among members; and facilitating opportunities for professional and cultural advancement of members.