News
Island CZ Lounge in Brooklyn welcomes back customers with outdoor seating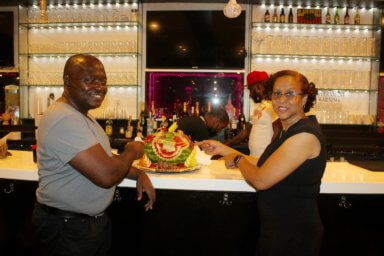 The grand reopening of Island CZ Lounge on Sept. 6 with outdoor seating did not come without challenges, due CDC guidelines to combat the ongoing coronavirus pandemic that has shuttered many small businesses.
However, owner Patrick Clarke and his team welcomed back loyal patrons to the 1440 Utica Ave. eatery during a festive afternoon filled with music, laughter, and good food at Island CZ Lounge, known for "The Best Seafood in Brooklyn."
Fusing traditional Island flavors with modern culinary trends, the Jamaican cooking is steeped in the rich cultural heritage of the country, known for its famous Jerk chicken, Oxtail Stew, reggae music, and renowned athletes.
The restaurant prides itself on being the perfect spot for anything, from a date with a significant other on its patio to a private event hosted in its spacious VIP room that accommodates up to 100 patrons.
Stanley Golding, an associate, told Caribbean Life during the celebration that the team has had many other openings of restaurants, but never such a challenging time as now, due to the COVID-19 pandemic, considering all the restrictions that the CDC has put in place.
"It has been challenging, but by the grace of God, we have good friends and supporters. We utilized social media for our marketing campaigns, and used word of mouth to help us to get back into business," said Golden, adding that despite the liquor license that took quite some time to be approved, the restaurant prevailed to open with grand fan-fair. 
The 4,000-square-foot space first opened in November 2019 but was closed to the public for four months, and only depended on takeout, and delivery orders to stay afloat. However, the eatery's charitable owners used the opportunity to donate large amounts of food to frontline workers, during the height of the pandemic.
Now that Gov. Andrew Cuomo allowed restaurants to open for outdoor dining in Phase 2 of reopening, Island CZ Lounge, despite the autumn weather, is hoping to capture that financial momentum by seating the restricted number of customers outdoor, until the indoor Phase 3 is announced.
Situated at the corner of Utica Avenue and Farragut Road, Island CZ Lounge is currently opened from 2 p.m., but is considering earlier times at the request of customers for everyday dining.
The restaurant is offering order delivery or pickup, via seamless.com, grubhub.com, doordash.com, and chownow.com.
For more information go to https://www.facebook.com/islandczlounge or call (347) 673-6204
The post Island CZ Lounge in Brooklyn welcomes back customers with outdoor seating appeared first on Caribbean Life News.