News
Inaugural Flatbush Free Social Justice Art Exhibition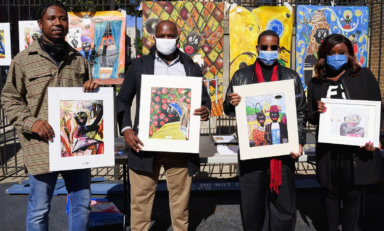 For decades, the Brooklyn art community has shined some light on social justice issues through creative expressionism.
On Oct. 17, Haitian-born District Leader Josue Pierre brought the artists to the people for the inaugural Flatbush Free Social Justice Art Exhibition, which, he said, "put Flatbush on the map as a center for arts and culture."
Pierre said he and artist Michael Casiano of NY Universal Visual Artist Uprising came together with 13 local artists for an outdoor, socially-distanced event that celebrated the history of Flatbush and the path forward.
Pierre, who is also running for City Council in District 40, told Caribbean Life that the artists presented their work to the public at Salem Missionary Baptist Church, whose pastor is Dr. James A. Thornton.
"Art was on display for public viewing in a free, socially-distanced festival that celebrates community activism and engagement," Pierre said. "Exhibitions were designed to be viewed at a safe distance.
"At a time when the city has cut $23 million from the Department of Cultural Affairs, we wanted to give both the community and the artists an outlet," he added. "This event was organized to continue advocating for better communities through art and to relieve the stresses of COVID, while allowing folks to be safe outdoors.
"It was great to see so many familiar faces from the community come together and enjoy this wonderful event in Flatbush," added Pierre.
The post Inaugural Flatbush Free Social Justice Art Exhibition appeared first on Caribbean Life News.