News
Homecoming Sunday, Int'l Day: A blend of heritage and unity at St. Paul's Church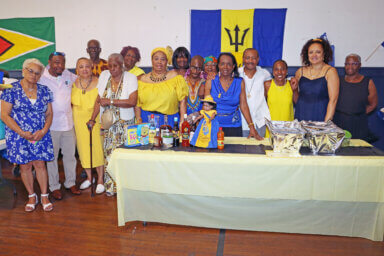 The bells of St. Paul's Church in the Village of Flatbush resonated with joy on Sunday in welcoming parishioners, friends and visitors, as they gathered to celebrate Homecoming Sunday and International Day.
The rich tapestry of cultural traditions that make up this vibrant community was showcased, according to the church's Barbadian-born Rector the Rev. Sheldon N.N. Hamblin.
Rev. Hamblin told Caribbean Life that it was the 15th Sunday after Pentecost and also the commemoration of Alexander Crummell, the first Black student to graduate from Queens College, Cambridge, United Kingdom; and Union of Black Episcopalian (UBE) Sunday.
Participants getting a dish at the Grenada stall. Photo by Nelson A. King
"Signaling the close of summer, Homecoming Sunday at St. Paul's Flatbush is traditionally a day to welcome back members of the church community after their summer travels," Rev. Hamblin said. "It is uniquely paired with International Day to highlight the unity in diversity that the congregation shares."
He said the service of the celebration of the Holy Eucharist comprised a libation ceremony, hymns and Negro Spirituals, accompanied by organ, drums and steel pan.
Rev. Gregory S. Livingston delivered the sermon, basing his message on "Forgiveness as the Foundation," with Rev. Hamblin as presider.
Volunteers at the Jamaica stall. Photo by Nelson A. King
"In this celebration of Homecoming Sunday and International Day, we celebrate not only our faith but the mosaic of cultures that enrich our congregation and community," Fr. Hamblin said. "In these trying times, it is essential for us to find strength in unity, to understand and appreciate the stories and traditions that each of us brings individually and collectively to this wonderful and blessed space in Flatbush and its environs.
The International Day Food Festival followed the Eucharist in the auditorium.
On entering the auditorium, Fr. Hamblin said attendees were greeted by "a carnivalesque amalgam of colors, sounds and fragrances."
He said booths were draped in national flags that represented Caribbean and other countries, such countries as Antigua & Barbuda, Barbados, Costa Rica, Grenada, Guyana, Haiti, Jamaica, Nigeria, Panama, St. Kitts & Nevis, St. Vincent & The Grenadines, and Trinidad & Tobago.
Nigeria and Haiti, from left: Bisi Doherty (Nigeria), Charles Charmang (Haiti), Marie Charmang (Haiti) and Faubert Nesmon (Haiti).  Photo by Nelson A. King
"Each station offered a glimpse into the respective country's African heritage and readily offered plates of sumptuous traditional delicacies, and displays of captivating, handcrafted goods and products," Rev. Hamblin said.
To top off the event, he said attendees were serenaded by the sweet sounds of the Eruption Steel Orchestra.
Trinidad and Tobago nationals at their table. Photo by Nelson A. King
"The church auditorium resounded with laughter, merriment, music and dance," Rev. Hamblin said. "Indeed, this was truly a wonderful and memorable celebration.
"As parishioners and friends and visitors bid their goodbyes, many expressed an overflowing joy to have been present in the moment, and shared their hopes that Homecoming Sunday and International Day would continue for years to come," he added.
"For those who missed this heart-swarming occasion, St. Paul's Church in the Village of Flatbush extends an open invitation to join them for their regular Sunday services and upcoming community events," Fr. Hamblin continued.