News
Hochul delivers 2023 State of the State to achieve New York Dream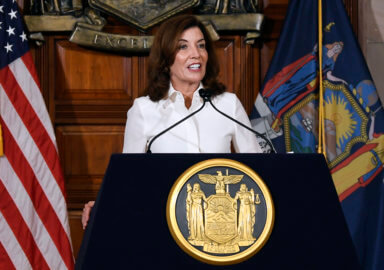 New York Governor, Kathy Hochul on Tuesday delivered her 2023 State of the State Address outlining her plan for Achieving the New York Dream.
In the address, Hochul outlined key components to make a more affordable, more livable and safer New York.
"Achieving the New York Dream" Agenda includes 147 bold initiatives.
They include: "New York Housing Compact" strategy to address New York's housing crisis, build 800,000 new homes over next decade; transformational plan to strengthen mental health care, increase capacity for inpatient psychiatric treatment by 1,000 beds and add 3,500 housing units serving individuals with mental illness; and major public safety initiatives and investments to drive down gun and violent crime.
Others are: raise minimum wage annually and index to inflation, helping New Yorkers address rising cost of living; cap-and-invest program to reduce greenhouse gas emissions and combat climate change; $165 million in relief to more than 800,000 utility customers; and plan to make child care more affordable, accessible, and fair in New York.
"My fellow New Yorkers, after three very difficult, tragic, painful, years, I'm proud to say that the State of our State is strong, but we have work to do," the governor said. "Last year, in the face of immense hardship and uncertainty, we endured. We proved to the world that New York may get knocked down. But we always, always, get back up.
"Because of that, I am optimistic about the upcoming year and the future," she added. "We still have some big challenges ahead, but the fight to do what is right is always worth pursuing.
"I'm steeled by the knowledge that if we come together, in this pivotal moment, and if those of us in positions of power do what needs to be done for the people of New York our shared potential is limitless," Hochul continued. "As I said in my Inaugural Address: When we are united, there is no stopping us. And when it comes to the mountains yet to be climbed, we are ready to scale them this year because of the peaks we already summitted in the past."
The governor said that, in 2022, the state made historic investments to strengthen and upgrade infrastructure; build a world-class public transit system; create strong public education; confront climate change; fortify the healthcare system; help small businesses recover from COVID; and spur economic development across the state.
She said her administration landed the largest investments in state history, including $20 billion from IBM and $100 billion from Micron, creating 50,000 new jobs.
"We expedited tax cuts for the middle class, gave property tax rebates, and suspended the gas tax when prices at the pump hit record levels," Hochul said., "You've passed, and I've signed, over 840 bills."
In response to tragedy, and the spreading plague of gun violence, she said the state strengthened gun safety laws – "which were already the strongest in the nation."
When the Supreme Court overturned Roe v. Wade, she said the state "took bold steps to ensure that – here in New York – access to reproductive healthcare remains a human right.
"And even though we had unprecedented revenues, and were flush with one-time federal aid, thanks to our partners in Washington – Majority Leader Schumer, Senator Gillibrand and members of our Congressional Delegation," Hochul said. "We also put aside money for a rainy day. Looking back, that was clearly a smart thing to do given that one year later, a majority of economists are predicting a recession.
"And it's also one of the reasons why we will not be raising income taxes this year," she added. "I thank the Legislature for being partners in addressing the challenges of 2022.
"When I was here last, I spoke of the New York Dream," Hochul continued. "For generations, people from all over the world have come here in pursuit of the American Dream.
"I am here today because that dream was realized by my family," she said. "And I want more New Yorkers to have access to the same opportunities that my family had. That is what public service is all about."
The governor said if New Yorkers don't feel safe in our communities, if they can't afford to buy a home or pay the rent, "then the dream stays out of reach."
"We're already seeing signs of out-migration that we cannot ignore, something that I know all too well from growing up in Western New York, at a time when jobs were so hard to find," she said. "We cannot allow that to happen again. The good news is: It doesn't have to be this way.
"My number one priority has always been, and will always be, to keep New Yorkers safe," she stressed. "And not a day has gone by that I haven't been laser-focused on this objective. The pandemic caused so much havoc in our State, country, and society itself. And it had a profound effect on public safety.
"The pervasive unease that wormed its way into our day-to-day lives, the social isolation and the economic distress, led to a nationwide rise in crime and gun violence that we are now combatting," Hochul said.
To respond, she said her administration developed new strategies and invested in new programs.
"Strengthening our gun violence prevention laws by passing even stronger ones and closing loopholes," the governor said. "Banning ghost guns and expanding bail eligibility for gun crimes. Tougher prosecutions of gun trafficking. Mandating the use of Red Flag law leading to more than 5,000 cases where we kept guns out of the hands of people who shouldn't have them and kept innocent people from being hurt."
The governor said the task ahead of is "daunting", adding that "the stakes could not be higher.
"But I am fortunate to live in the home once occupied by one our state's greatest leaders and thinkers named Roosevelt," she said. "Eleanor Roosevelt once said, 'You… who are going to build a new world must go forward with courage.' We will build a new world. And we will be courageous.
"We will do the hard things, the necessary things, to lift up and support New Yorkers and clear a path for them to realize the New York Dream," Hochul added.
"That is my promise to the people of New York, and I will work with the members of the Legislature to keep that promise," she pledged.