News
History making Guyana flag raising at Hempstead Town Hall commemorates 57th Anniversary of Independence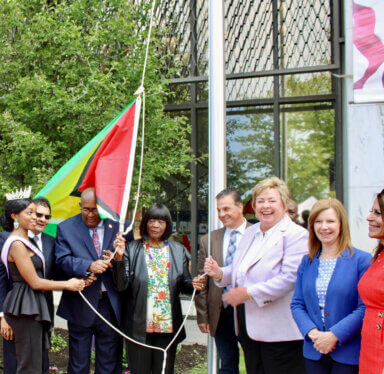 The Golden Arrowhead flag on May 19, was hoisted for the very first time at Hempstead Town Hall, during a 10:30 a.m. history making commemoration on the Dorothy L. Goosby Plaza to honor Guyana's 57th Anniversary of Independence.
Celebrants applauded as the flag of freedman was raised by Deputy Supervisor, Dorothy L. Goosby, Consul General of Guyana to New York, Ambassador Michael Brotherson, Fazal 'Joe' Yussuff, along with Councilwoman Laura Ryder, Councilman Tom Muscarella, Town Clerk Kate Murry, Receiver of Taxes Jeanine C. Driscoll, and Mrs. Guyana International 2023 Malika Blount, during a moment of pride.
Goosby, a history maker herself, one of the first Democrats elected since 1905, and the first African American woman to hold the position, congratulated Guyanese nationals on the achievement of Independence, noting the wonderful culture the nationals enjoy, while welcoming them to Hempstead Township.
Guyanese during a meet and greet breakfast morning in Hempstead Town Hall before a flag raising ceremony. From left Malcolm Hall, GCA, Fazal 'Joe' Yussuff, Guyana Consulate, Mrs. Guyana International 2023, Malika M Blount, poet James Richmond, and Bibi Alli, Power of the Soil. Photo by Tangerine Clarke
"It's an honor to be celebrating with you. You have a fantastic culture," she said noting that Hempstead is the largest town in America and the most diverse, "where people from all walks of life, live, and come together to make our county a better place to work and raise a family. That is what today is all about." She noted that the county celebrates the rich diversity with festivals.
Goosby who delivered her remarks on the Town Hall Plaza, named for her, has the distinction of being the first councilperson to run and be elected in six consecutive campaigns, winning in landslide victories.
Past President of the Association of Towns of the State of New York, Goosby also interacted with expatriates, during the celebration.
In a written statement, Supervisor Don Clavin welcomed Guyanese to the Town of Hempstead's celebration of Guyana Flag Raising Day, saying "We are privileged to host events like these that celebrate our community's varied cultures and heritage.
Expatriates enjoying the celebration to honor Guyana's flag raising on Dorothy L Goosby Plaza at Hempstead Town Hall.  Photo by Tangerine Clarke
"Hempstead Town is the largest and most diverse town in America. Today's celebration demonstrates the township's commitment to embracing people from all walks of life, honoring their history and significance of being in unison. Thank you all for joining in the wonderful celebration," he said.
Guest speaker, Consulate General of Guyana to New York, Ambassador Michael Brotherson extended greetings on behalf of President Irfaan Ali, and the people of Guyana. "Thank God almighty for helping us to see another day to celebrate our 57th Anniversary of Independence with a sense of enthusiasm, pride, and fulfillment.
"It was an important day in the history of Guyana. It was May 26, 1966, when we gained our independence. This began a journey of national building, that has emerged today as a country respected as a member of the international community in which our citizens enjoy all the fundamental freedoms."
"As proud Guyanese, you have a responsibility to your country. Our contribution is critical. You have your part to play in projecting a positive image of our country, not only in the United States but wherever you go."
"The hallmark of our identity as Guyanese is unity in diversity. We come from a country of six races. Our diverse cultures, various religions, are all woven into a beautiful tapestry we call Guyana," said CG Brotherson, who thanked Supervisor Dan Clavin, for the invitation to celebrate Guyana's achievement. "Happy Independence," he expressed.
Town Clerk Kate Murray, Consular General of Guyana to New York, Ambassador Michael Brotherson, Executive Director, Community Affairs Zahid Sayed, and Deputy Supervisor, Town of Hempstead, Dorothy L. Goosby at the podium during the commemoration of Guyana 57th Anniversary of Independence. Photo by Tangerine Clarke
"Guyana" a poem rendered by Mrs. Guyana International 2023, Malika Manelva Blount, spoke of the country's achievements after Independence, such as  citizens being responsible for their own destiny, the setting aside of racial segregation for peace and prosperity, and development that has made the homeland indelible.
Executive Director, Community Affairs, Zahid Syed, thanked Supervisor Clavin for inviting Guyanese to celebrate their Independence, and acknowledged the growing population of nationals, whose celebration is now included in one of the most diverse townships in America.
The commemoration, which began with a meet and greet breakfast morning, was honored with festive Guyanese fare, including a cake with the colors of the flag.
This was followed by the reciting of the Pledge of Allegiance by Town Clerk Kate Murry, the singing of the Star-spangled Banner by Hempstead high school student, Leslie Lordpenny, and the Guyana National Anthem by Alexander Mingo.
Representatives from the Apostolic Caribbean Christians, Church of All Nations, the Guyana Cultural Association, (GCA) poet, James Richmond, among other guests, waved Guyana flags, during the historical presentation.
Special thanks go out to Sandra Lindo, Andrea Perry, Joan Sealy, Trudy King, and Sherry Williams. Organizers also thanked sponsors Sybil's Restaurant, Blueprint, Tanya's Care, and others.