News
Historic $75M 'Opportunity Fund' to help small businesses lead pandemic recovery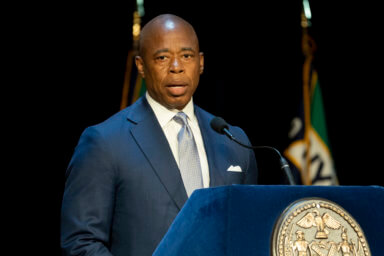 New York City Mayor Eric Adams and New York City Department of Small Business Services (SBS) Commissioner Kevin D. Kim on Monday announced the groundbreaking creation of the $75 million NYC Small Business Opportunity Fund, the largest public-private loan fund directed at small businesses in the city's history.
Adams said about 1,500 local businesses will be served by the fund — with loans up to $250,000 at a market-leading rate of 4 percent — "unleashing unprecedented resources at a critical time in the city's economic recovery for small businesses too often underserved by financial relief programs."
He said flexible terms address historic barriers to ensure broad access to the fund by eliminating credit score minimums, not requiring application fees, serving start-up and growth-stage businesses, and leveraging the deep roots of local organizations to reach businesses in BIPOC and immigrant communities.
"Small businesses kept us going through the pandemic, and they are leading the way during our economic recovery. Now, we are giving back with the NYC Small Business Opportunity Fund," said Mayor Adams. "Our efforts to cut red tape and jumpstart our recovery are already delivering results: We saw 13,600 new businesses open in the first half of 2022, including 1,800 new storefronts. This new loan fund will help us build on that progress and represents the next great step forward in our city's partnership with our entrepreneurs and small business owners."
The Opportunity Fund is made possible through a historic partnership between the City of New York and Goldman Sachs, Mastercard Center for Inclusive Growth, Community Reinvestment Fund (CRF), and local community development financial institutions (CDFIs), and fulfills a key commitment in Adams' "Rebuild, Renew, Reinvent: A Blueprint for New York City's Economic Recovery."
Since day one of his administration, Adams has focused on helping small businesses thrive as they are crucial to New York City's economic recovery.
The Opportunity Fund further builds on the Adams administration's historic efforts to help small business, including Executive Order 2, also known as "Small Business Forward," which identified over one hundred reforms to reduce fines, extend cure periods, and eliminate violations.
In addition, in May, the mayor signed Executive Order 15, which ordered the creation of a Small Business Advisory Commission.
"These efforts are delivering tangible results," he said.
According to the latest research from the city's Economic Development Corporation, 13,600 new businesses opened in the first half of 2022, including 1,800 new storefronts.
"Small businesses are the engines of our economy, and the NYC Small Business Opportunity Fund will give business owners across the five boroughs the fuel they need to thrive," said Deputy Mayor for Economic and Workforce Development Maria Torres-Springer. "This innovative public-private partnership will not just help over 1,000 businesses but also have lasting ripple effects in the lives of workers and in the health of our neighborhoods where these businesses operate."
"To reach a full and equitable recovery, New York City's small businesses need a boost — and with the launch of the historic NYC Small Business Opportunity Fund, SBS is delivering," said SBS Commissioner Kim. "This loan fund will unlock opportunities for businesses hit hardest by the pandemic by offering flexible and affordable financing to help businesses recover and grow. Our team and dedicated partners are committed to ensuring local small businesses, particularly those too often excluded from pandemic-era relief, use this fund to propel themselves forward."
"We are determined to ensure that affordable capital reaches last-mile lenders who prioritize serving under-resourced small business owners," Asahi Pompey, global head of corporate engagement, Goldman Sachs. "Through One Million Black Women, we are focused on advancing targeted capital solutions with proven impact, and we are honored to partner with Mayor Adams and Small Business Services in this effort."
"We're grateful to work with dedicated CDFI partners to help small business owners in New York City," said Sherry Wang, co-head, Urban Investment Group, Goldman Sachs Asset Management. "We believe that the NYC Small Business Opportunity Fund will be critical to increasing access to capital for businesses disproportionately impacted by the pandemic and will contribute to an equitable recovery across our city."
"Small businesses carried our communities through the pandemic, and we now have a chance to collectively and creatively help carry them through their continued recovery," said Shamina Singh, founder and president, Mastercard Center for Inclusive Growth. "Our engagement with small businesses through our Strive program has shown us that enabling access to affordable capital is essential for creating long-term resilience, particularly for underserved businesses. We're honored and eager to bring our assets and insights to this joint initiative, which recognizes not only the economic promise of supporting small businesses, but also the difference-making power of innovative public-private partnership."
"Small business owners continue to feel the impact of economic uncertainty," said Keith Rachey, executive vice president and chief impact and strategy officer, CRF. "We are honored to work in partnership with the city, CDFIs, local business support organizations, and others to bring the Opportunity Fund to life and reach small businesses with a history of underrepresentation."
Adams said small businesses powered New York City through the pandemic, adding that "they are leading the way during this recovery."
He said the new Opportunity Fund will support a more inclusive and diverse economy by enabling business owners to: Apply for loans ranging from $2,000 to $250,000; pay a below-market fixed interest rate of 4 percent, regardless of loan size; pay only interest for the first six months for start-up businesses, regardless of loan size; use the loan to refinance existing high-interest debt, expand their customer base, hire new employees, and more; and access free long-term business supports through SBS.
CDFI partners – including Accompany Capital, Ascendus, BOC Capital, Harlem Entrepreneurial Fund (HEF), NDC, Pursuit Community Finance, Renaissance Economic Development Corporation and Trufund – will provide application assistance and no-cost financial advice, utilizing a novel model of local engagement to reach businesses in greatest need.
Additional CDFIs can apply to partner on the fund.
To further the fund's reach in hard-hit communities, SBS will launch a major door-to-door outreach campaign throughout the five boroughs.
"CDFIs have been called 'first responders' to recovery efforts after financial crises," said Yanki Tshering, executive director, Accompany Capital. "Accompany Capital is delighted to join our fellow CDFIs in ensuring that this very important Department of Small Business Services initiative will enable small businesses in underserved communities to get access to low-cost and flexible capital."
"HEF is delighted to participate in this public-private partnership providing capital and technical assistance to small businesses still recovering from the devastating impact of the COVID-19 pandemic," said E. Hamil Douglas, president and CEO, Harlem Commonwealth Council, Inc. "Small businesses in Harlem, Upper Manhattan, and the Bronx suffered disproportionally from COVID-19, and this fresh injection of capital will help stabilize these businesses and, by extension, the communities they serve."
To be eligible for a loan, businesses must have less than $5 million in annual revenue and be located within New York City. Applications to the Opportunity Fund open online today, and those interested can learn more about the Fund by calling SBS's hotline at (888) SBS-4NYC.
In addition, the city will offer webinars to help businesses learn about the application process and the steps involved. The webinars will be offered weekly beginning on Tuesday, January 24, 2023.
"Many of New York's small businesses will breathe a sigh of relief with this historic loan program," said New York State Sen. Roxanne J. Persaud, the Guyanese-born representative for the 19th Senate District in Brooklyn. "Mayor Adams' continued commitment to an equitable recovery will continue to make asset building stronger across our City and in Senate District 19."
"Our small businesses are the backbones of our diverse communities here in Queens, but many of these beloved neighborhood anchors are still struggling to pay the bills following three years of COVID-caused uncertainty," said Queens Borough President Donovan Richards, Jr., whose father hails from Jamaica. "The NYC Small Business Opportunity Fund has the opportunity to be a game-changer for our local economies, and I look forward to working with the mayor's office and the Department of Small Business Services to ensure that Queens businesses receive their fair share of this critical funding."
"The Opportunity Fund can play a crucial role uplifting small businesses in need of flexible and affordable financing to further grow their business," said New York City Councilmember Julie Menin, chair, Committee on Small Business. "So many small businesses were unable to access pandemic-era aid that could have prevented closures and empty storefronts across our city. I thank Mayor Eric Adams and Commissioner Kevin D. Kim for prioritizing the needs of small businesses and providing additional resources during this critical time of the city's economic recovery."
"Deh Abroad Village is proud to stand with Mayor Adams, who has clearly shown in one year his focus on helping and strengthening New York City small businesses," said Jamaican Dominic Christopher, co-founder, Deh Abroad Village. "Today's announcement is another strong step by our mayor that New York City small businesses are a top priority to him."
"The Opportunity Fund will provide critical funding to small businesses across New York City, particularly those in Black, Brown, and immigrant communities," said Shelley Worrell, founder, I AM Caribbeing. "I AM Caribbeing is honored to partner with Mayor Adams and Small Business Services in hard-to-reach communities such as Brooklyn's Little Caribbean to accelerate access to funding, resources, and opportunities allowing businesses to start, scale, and advance entrepreneurship.