News
Haitian Heritage Parade marks monthlong salute to 1st Black Republic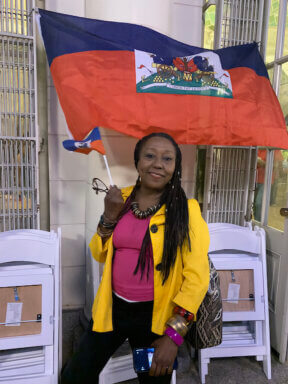 If sak pase is all the creole you know, Haitians of every persuasion are willing to expand your vocabulary on June 3 when they debut New York City's inaugural Haitian Heritage parade in Manhattan.
Likely they'll agree 'n'ap boule' as the appropriate response to the popular 'what's up?' greeting however proud nationals will share many patois phrases to enlighten the diverse gathering at Central Park West and 86th St. when the parade steps off at 10 a.m.
For six hours, ex-pats and associates might want to boast the 220th anniversary of their red and blue flag which distinguishes the first Black republic.
They will be able to restate the fact that without Haiti there might not have been a United States of America.
Whatever the conversation names such as John Jacques Dessalines, and Toussaint L'Ouverture will seep into the dialogue.
History states: "The Haitian revolution is the largest and most successful slave rebellion in the Western Hemisphere. The enslaved initiated the rebellion in Aug. 1791 and by 1803 had succeeded in ending not just slavery but French control over the colony. Led by former slave Touissaint L'Ouverture, the enslaved first rebelled against the planters on Aug. 21 1791 after a ceremony at Bwa Kayiman, an alligator forest where a conglomerate of enslaved persons from west African nations, maroons, and indigenous people conspired for freedom. L'Ouverture was lured to France under false pretenses and was jailed until his death in 1803. Jean Jacques Dessalines, one of L'Ouverture's generals and himself a former slave, led the revolution at the Battle of Vertieres on Nov. 18 1803 where the French were defeated.
On Jan. 1 1804 Dessalines declared the nation independent and renamed it Ayiti, its original Taino name, and emerged as the first Black republic in the world."
Last week at Brooklyn's Prospect Park Boathouse, where Flag Day was celebrated by generations, first and second generation born Haitian-Americans boasted the rich culture and heritage of the former French colony.
Four elected officials to the city council took turns touting the achievements of accomplished nationals.
That all four Haitian-Americans were appointed to chair committees in the NY City Council last year, was an unmentioned fact. But stated in no uncertain terms is that this summer Claudine Gay, the daughter of Haitian immigrants will be named the 30th president of Harvard University.
Gay is a trailblazer and Haitian treasure because in the 400-year history of the Ivy-League institution no Black had ever presided there.
On a pleasant afternoon in Brooklyn, Haitian songstress Emelyne Michel did not need a microphone to amplify lyrics to her creole compositions. There were plenty of willing accompanist to anticipate and echo her every creole-language phrase.
Needless to say, art was abundant and dancing, impromptu and tempestuous.
Along with festive adults, tiny tots and proud flag-waving pre-school aged youngsters demonstrated pride in the next generation Haiti.
On the first Saturday of Caribbean Heritage Month, the theme — Haiti: The Mother of Freedom is almost guaranteed to raise the consciousness of west side Manhattan residents.
Regardless the weather, plans are afoot to transport residents of Brooklyn's Little Haiti and spectators of every nationality to parade downtown to 72nd St.