News
Haitian American Judge Dweynie Paul 'humbled' by Kings County Supreme Court nomination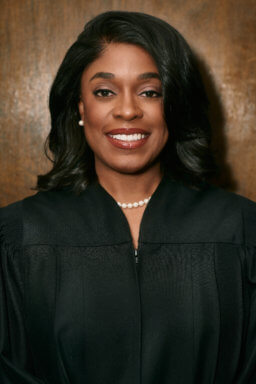 Haitian American Civil Court Judge Dweynie E. Paul says she's "humbled" to be officially nominated among 12 judges to run on the Kings County (Brooklyn) Democratic Party's line in the 2022 election for open bench seats in Kings County's New York State Supreme Court.
"I am filled with humility and gratitude by the Supreme Court nomination," Judge Paul, the first person of Haitian-American descent to be elected Civil Court Judge in the State of New York, told Caribbean Life on Monday.
"I hope to stand in the gap between equity and justice for all litigants," added the Bedford Stuyvesant, Brooklyn resident, who was elected a Kings County Civil Court Judge in 2015.
Judge Paul was nominated, among 11 other judges, at the recent Kings County Democratic Party's Judicial Convention.
The party said in a statement, which was first published in the Brooklyn Daily Eagle, that the Judicial Convention, which took place at Marine Park Golf Course in southern Brooklyn, was "a success, with delegates civically engaged in a fair and transparent process."
The convention followed the executive committee's meeting, where the District Leaders met and endorsed the party's slate.
Besides Judge Paul, the Democratic nominees are: Patria Frias-Colón, Cenceria P. Edwards, Cheryl Gonzales, Lorna J. McAllister, Aaron D. Maslow, Susan Quirk, Robin K. Sheares, Ellen Spodek, Richard Velasquez, Anne Swern and Craig S. Walker.
The slate of 12 judicial candidates will now appear in the November General Election in 2022.
"This is the most diverse slate of judicial candidates to be nominated by the Party, with an unprecedented number of Black women nominees," said the Brooklyn Democratic Party.
Brooklyn Democratic Party Chair Rodneyse Bichotte Hermelyn said: "In the year that we saw the first Black woman U.S. Supreme Court Justice, Ketanji Brown Jackson, the Brooklyn Democratic Party is honored to break barriers by sending six Black women to the Supreme Court of New York State.
"With a diverse slate of 12 deeply qualified Democratic judicial nominees, Brooklyn has reached a historical win," she said.
Judge Paul thanked "all who dedicated their time and energy to the process because of the importance of justice."
With a passion for justice and the community, Judge Paul said she began to pursue a career in law and public service.
She attended State University of New York (SUNY) Stony Brook University, where she obtained a dual Bachelor of Arts degree in political science and social science, with a minor in Child and Family Studies.
While in college, Judge Paul said she gained first-hand knowledge of criminal proceedings by interning for a justice of the Queens County Criminal Supreme Court.
Thereafter, she completed her Master of Arts degree in public policy at SUNY Stony Brook.
As a policy analyst for the New York State Comptroller's Office, Judge Paul said she studied immigration-related issues, with a focus on immigrants' ability to gain access to essential resources, such as education, employment, healthcare, and their impact on the economy.
Judge Paul said she graduated from George Washington University Law School in Washington D.C. where she received her Juris Doctorate degree.
During her time in D.C., she said she worked in the Vaccine Injury Litigation Clinic, appearing before the US Court of Federal Claims and negotiating with the US Department of Justice on behalf of injured persons.
Judge Paul said she began her legal career within the court system as a Judicial Law Clerk for an Administrative Judge of the Baltimore City Circuit Court.
As a Judicial Law Clerk, she said worked to resolve disputes in the areas of civil, family and criminal law.
Judge Paul said she later became In-House Counsel for an insurance company, representing people in Supreme, Civil and Small Claims Court proceedings and litigating various issues, such as contract disputes, premise and products liability, personal injury, property damage, intentional torts, and lawsuits related to residential and commercial real estate claims.
Judge Paul said she dedicated some of her practice to alternative dispute resolution, having obtained extensive training, managed a team of paralegals and oversaw attorneys' arbitration submissions before the American Arbitration Association.
But she said that she has never wavered from her commitment to the community.
As the former Director of Community Service for the Metropolitan Black Bar Association and former member of Community Board 3, Judge Paul said she has developed programs and workshops that served to create greater access to justice, resources and information for communities.
She said she organized the first annual Community Law Day, annual Domestic Violence workshops and founded the Young Men's Leadership Initiative.
Judge Paul said she is also a deacon at Mt. Lebanon Baptist Church.
She said her work on the Board of Directors of the Judicial Friends Association, an organization of New York State Black Judges, "serves to promote diversity in the courts and supports a pipeline for others entering the legal field."
After becoming the first person of Haitian-American descent to be elected Civil Court Judge in the State of New York in 2015, Judge Paul commenced her term the following year, presiding in Family Court, focusing on custody, visitation, domestic violence, adoptions, guardianship and child support objections.
She said she sat on the Administrative Judge's Advisory Committee "in an effort to improve Family Court statewide."
Judge Paul said she understands "the need to bridge the gap between the community and the courts," and collaborated with the NYS Unified Court System's Office of Justice Initiatives to create events like Clergy Day and programs that expand free supervised visitation for parents and children.
Currently, Judge Paul presides over cases in Civil Court, hearing small claims, commercial landlord tenant, consumer debt, first-party benefits, personal injury and other civil trials.
She said she has provided legal training to new judges on behalf of the New York State Judicial Institute.
Judge Paul was appointed to the Civil Court Consumer Debt Task Force, where she developed recommendations to implement new procedures citywide, to address changes resulting from the Consumer Credit Fairness Act of 2021 (CCFA).
As chair of the Civil Court Gender Equity Committee, member of the Brooklyn Courts' Black History Month Program, and member of the King's County Caribbean Heritage Month Program, Judge Paul said she continues her efforts to "champion the goal of equity in the courts by engaging court personnel and the community at large."
She said she ensures that everyone in her courtroom is "treated equally and with respect."
Judge Paul said she has "the experience, integrity and compassion to deliver justice for all."