News
Guyanese toy drive to benefit children back home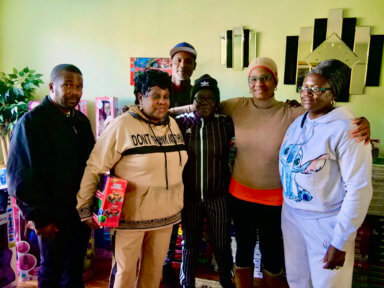 More than 200 children in Guyana will smile a little brighter this Christmas, all thanks to a group of charitable nationals who came together in Brooklyn last Saturday to donate board games, dolls, books, toy cars and a hosted of other trinkets to be distributed in the rural areas of the homeland.
Burgette Williams founder of the Guyana Ex-Athletes and Friends, Inc., thanks everyone, including New Jersey resident Lady Ira, founder of Lady Ira Life Skill Foundation, Agricola, Guyana, Mr. & Mrs. Springer, owners of Springer Printing, and Marathoner of Brooklyn, Michael Deabreu Luthers, CEO/Founder Talk A'D Town Radio, Brooklyn, Treasurer, Deborah Quamina, NJ resident politician, Conrad McPherson, and many others, for their heartfelt donations to the toy drive.
"Members of the organization are people who care, we are all proud to be a part of the toy drive. I want to thank Sherif Fraser, Audrey Telford, Jacqueline Telford, Marilyn Murry, Chris Dalton, Debbie Lee, Doreen Williams, Sharon Ann, the Hills crew, and others, for their contributions," said Williams
Williams whose living room was stacked with scores of toys, thanked her husband, who called on her to ensure the toys go to the less fortunate in Guyana. The community activist and humanitarian, credits her father whose tradition she is carrying on after 50 years.
"It's a blessing and a joy, that we can give back to the children of Guyana. It was started by my deceased father he was a passionate humanitarian. I do this with integrity," said Williams.
Despite acquiring hundreds of toys purchased with funds raised and donations, Williams said it was challenging, since the items were expensive.
"To everyone who participated in the drive, you played a very important role, because you are the ones who will put a smile on the faces of the kids in Guyana," said Williams.
Deborah Quamina, said this was a passion project for her and as a humanitarian, she was following in the footsteps of her parents. "I love what I do. It is a pleasure to share. It comes from the heart. I will continue this work for the rest of my life," she added.
Williams, who founded the Guyana Independence Road 1 Mile, 5k &10 K Burgette Williams race, in Georgetown, that will take place on May 21, 2023, also looks forward to partnering with Talk A'D Town Radio, and other organizations, for a bigger toy drive in 2023.