World
Guyanese hair stylist Corenza Handy launches Hair LaMode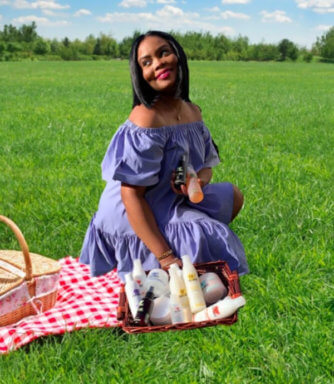 After owning and managing a successful hair salon in Midwood, Brooklyn for over 15 years, Guyanese Corenza Handy has launched her own haircare line.
Handy, who migrated from Guyana in 1985 and currently resides in Queens, told Caribbean Life that, for the past couple of years, she researched how to make her own products but added that the COVID-19 pandemic motivated her to officially launch Hair LaMode.
She said it would be the best way to help clients who didn't know what products to use or didn't feel comfortable entering a salon during the pandemic.
"From the age of 9, and still today, I've loved the concept of hair and beauty," Handy said. "I've always been intrigued to find the best way to keep my hair full and healthy.
"For the last three years, through my experience as a master hair stylist, I tried to figure out the best way to promote healthy hair growth," added the founder and chief executive officer of Hair LaMode. "In our community, I've learned our hair needs a healthy scalp, healthy blood circulation and moisture in order for our hair to grow.
"The pandemic really helped me focus on my goals for the industry; and, today, I'm proud to say my products include all the key ingredients that will promote healthy growth for all hair types," she continued.
Handy said Hair LaMode's eight products are designed for "relaxed and natural hair", light weight and free of sulfates, phthalates, parabens and mineral oils "to prevent additives from clogging follicles and weighing down the hair."
"Our main focus is hair and scalp health," she said, stating that by "being a woman and a hairstylist," she has a "huge passion for making women look and feel their very best.
"The Hair LaMode line of hair care products represents just that," Handy affirmed, stating that many of the formulas used in Hair LaMode's products can be used on color-treated hair and will "protect from damaging UV rays and environmental pollutants."
After graduating from the Borough of Manhattan Community College in 2007, with an associate's degree in Business Management, and taking additional courses at Brooklyn College, Handy said she took on her true passion for hair, launching Kayhairnista Hair Salon in 2012.
She said her specialty lies in precision cutting for personalized and perfected looks.
As a master stylist and short hair specialist, Handy said she's "ever-evolving, learning new techniques," and, yet, seeks higher, specialized education in advanced cutting and styling with Beyond Beauty the Hair, Patric Bradley, Core Concepts and Marina Lantos.
Having taught and observed hands-on cutting and styling courses, as well as creating styles and working with some of the music industry's top artists, Handy said she became a member of L.E.A.D, an educator's program providing advancing education and support for stylists, "maneuvering beyond the chairs to educate large audiences."
"Hairstyling is more than a job; it's an opportunity to help women build the confidence that is necessary for navigating through life," she said. "My desire with each client is to change and improve the way they feel on the inside and have it, in return, be exemplified on the outside.
"It is the most gratifying and blessed feeling," Handy added. "I love what a simple hairstyle can do for a woman."
Kayhairnista Hair Salon is located at 919 Coney Island Ave., Brooklyn.
Patrons can call Handy at (718) 483-9585 or visit www.myhairlamode.com.
The post Guyanese hair stylist Corenza Handy launches Hair LaMode appeared first on Caribbean Life News.