World
Guyanese artist excels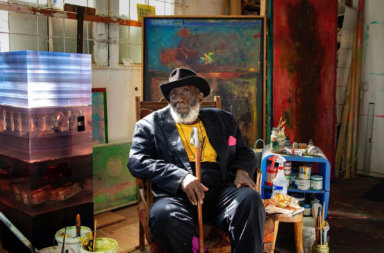 Guyana-born artist Frank Bowling is now bearing the honorific, 'Sir' following receipt of a knighthood in the Queen of England's 2020 Birthday Honours.
Sir Richard Sheridan Franklin Bowling Kt ,OBE, RA, 86, who was born in what was colonial British Guiana, was conferred with the honor of Knight Bachelor, which recognizes the achievements of a wide range of extraordinary people across the United Kingdom.
His public relations agency, Pelham Communications, stated that Sir Frank's relentless pursuit of excellence in painting during his six-decade long career underpins a lifetime of service to British art.
His honor in the 'Art' category was announced early October.
"Trained in the English art school tradition, my identity as a British artist has always been crucial to me and I have viewed London as my home since arriving in 1953 from what was then British Guiana," Sir Frank stated.
"Friends and family have played a role in my studio since the 1960s – as a husband, father, grandfather and recently a great-grandfather, I am honoured to sit at the centre of a modern family to whom I feel much gratitude," the communications agency quoted Sir Frank saying.
"I've set out on a quest to explore the possibilities of paint, and I find myself making something new every time. I have an insatiable determination to experiment with colour, form and process, to create new and original artworks that push the boundaries of the medium, while being intellectually grounded in post-war abstraction."
Sue Hubbard wrote in ArtLyst, a United Kingdom art information website, providing multi-media art news, that an ongoing Bowling exhibition at Tate Britain art museum is a "rare show, reminding us of what painting can do."
"From the moment you walk into the Tate show, you know you are in the presence of a significant painter."
She noted that though born in the inland up-river settlement of Bartica, "Frank Bowling grew up in [coastal] New Amsterdam where his mother ran a successful store. At the age of 19, he moved to London to become a poet."
According to Hubbard, Bowling's poetry ambitions changed slightly to an illustrative art form owing to a period in the Royal Air Force as a serviceman.
"It was there he met the artist Keith Critchlow who introduced him to the London art scene," she wrote, and added, "after studying at Regent Street Polytechnic and Chelsea School of Art, he was awarded a scholarship to the Royal College where he studied alongside David Hockney, Patrick Caufield and Pauline Boty."
Hubbard stated that it was not all smooth sailing for Sir Frank because he was initially rejected as he did not have a background in life drawing.
Some luck did however come the way of this newly knighted artist as, "he was rescued and funded by the head of painting [at the College], Carel Weight. But where Bowling's contemporaries turned to Pop art, he embraced the poetry of abstract expressionism."
"A move to New York in 1966 was seminal. His influences became Rothko and Barnet Newman, his concerns history and the exploration of space and time, rather than the iconography and irony of the everyday."
Pelham Communications stated, "the artist is also known for his writing on art, particularly in debates around formalism and 'Black Art' as he has always vigorously rejected being defined by restrictive labels that sought to pigeonhole him. In 2005 he became the first Black artist to be elected a Royal Academician."
Writing about the artist in the Trinidad and Tobago Guardian last year, columnist Mark Wilson had observed that Sir Frank's work links strongly to Guyana, with early pieces showing his mother's New Amsterdam shop, while map paintings were built around outlines of Guyana and South America.
The post Guyanese artist excels appeared first on Caribbean Life News.