News
Guyana Prez Irfaan Ali, PM Mottley sign RSS treaty protocol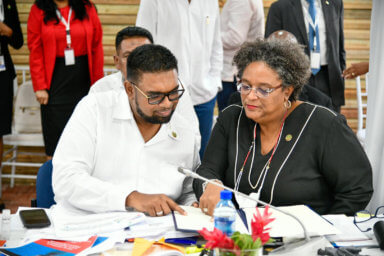 According to the Facebook page of Barbadian Prime Minister, Mia Mottley, member countries of the Regional Security System (RSS) have agreed to sign a protocol to the treaty that established the RSS for the accession of the Cooperative Republic of Guyana.
While at the Inter-sessional meeting in Belize, all the heads of government of member states who were present, signed the protocol. "Once the heads of the remaining members sign the protocol, Guyana will be able to join the RSS. This is another example of regional cooperation and integration in action," said the leader.
Mottley who is pictured with President of Guyana,  Ali at the 33rd Inter-sessional meeting of the Conference of Heads of Government of CARICOM, opened on March 1, in San Pedros, Belize, noted that the Barbados delegation attended a brief opening ceremony, the first for new CARICOM Secretary-General, Dr. Carla Barnett.
"Also at the head table was our host Prime Minister, the Hon. Juan Antonio Briceño. Following the opening ceremony, we posed for an official photo of heads and one for foreign ministers," she posted.
The two leaders have forged a solid bond, for bilateral agreement for development between their nations that would allow Guyanese nationals to be trained in the hospitality sector in Barbados. While a prefabricated housing initiative was suggested by President Ali, for Guyana to supply Caribbean nations with the wooden structures.