News
Guardian Angel eager to roust rogue cops – 8 is enough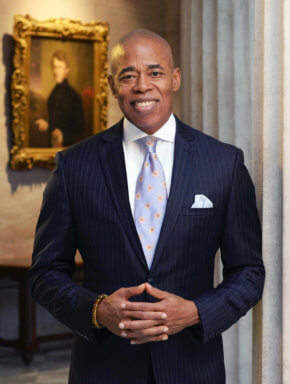 If elected the 110th mayor of New York City, Republican Curtis Sliwa vowed he will challenge bad cops.
"They will have me to deal with," the crime fighting leader of the Guardian Angels said recently while announcing his "save our city" bid for mayor.
The Canarsie, Brooklyn-born, Polish-Italian added that while he intends to be tough on rogue cops, he believes eliminating the police department would be disastrous to the city.
"We have to refund the police — not defund," Sliwa added.
During a press conference outside Penn Station, he threw his red beret into the race adding to an already crowded field of eight Democrats and Fernando Matteo, the other GOP contender vying for leadership at City Hall.
Endorsed by the Brooklyn and Staten Island Republican Party, the anti-crime crusader has been riding the subways, walking the streets and with his multi-ethnic volunteers is credited with providing backup security to the city for 40 years.
He believes that singular feat could qualify his election and leadership of the city's eight million plus populous.
Eight Democrats disagree — Maya Wiley, Ray McGuire, Shaun Donovan, Eric Adams, Scott Stringer, Andrew Yang, Kathryn Garcia and Diane Morales all claim best to represent the blue state.
All boasting impressive record of service, their credentials include dutiful service to President Barack Obama and Mayor Bill deBlasio, community involvement, successful private business ownership and one campaigned last year to become the Democratic Party's candidate of choice to win the presidency of the United States.
Although the latter did not win that bid, he received national attention which probably has placed him in the top 2 front position who faced off in the first candidates' debate aired on NY1, the city's all-news cable channel.
Moderated by Errol Louis and Brian Lehrer recently, unlike the contentious Democratic, 2020 presidential debates, after two hours no clear frontrunner emerged.
Not only did Morales argue that given the atrocities committed against Black and brown people would she readily defund the police, but strongly advocated to "disband the police."
A defender of human and civil rights, she provided challenging argument with conviction of a plan to provide an alternative and valid policing program.
McGuire declared he is the "man with a plan."
He convinced this Insider that one does not have to be a politician in order to implement policies.
He offered several proposals to improve education, the economy and the NYPD.
Policing carved out a large chunk of the two-hour presentation. Though issues related to the LGBT community, free broadband service, housing, immigration, homelessness, employment, climate change and the environment also received hearing the fast-paced presentation focused heavily on safety.
Former police captain and current Brooklyn Borough President Adams virtually and verbally lunged at Civil Rights attorney Wiley who questioned his loyalty to the party they both represent. She all but called his policies 'wishy washy' bolstering an argument that he was a proponent of the controversial 'stop and frisk' police program which allegedly profiled Blacks.
She accused the former cop of condoning a racist policy that resulted with 88 percent of 685,000 falsely accused victims to being people of color.
To his credit, the BBP coolly defended his positions saying "my mother and grandmother" always voted Democrat and that for at least three generations have been rooted with party loyalty.
He also fired back that in her position as counsel to Mayor Bill de Blasio, she poorly advised the outgoing the leader and failed at chairing the Civilian Complaint Review Board.
Score one point each candidate for livening the discussion.
Adams also railed at Yang, who in polls ranks number two and is his fiercest opponent.
He called out the only Asian candidate for acting with indifference to crimes against Blacks killed in Brownsville and East Nork but swiftly protested when an Asian was assaulted.
"You owe them an apology…" Adams said.
The founder of an organization of disgruntled Black police officers did not stop there, he raised the issue of Yang's voting record. "You have been living here for 25 years…yet never voted in a local election…"
Yang responded that he can't really recall whether or not he has voted but 'think' he voted during at least one presidential contest when Al Gore ran.
The New York Post doled out platitudes to endorse the would-be first Asian mayor of New York City but Adams' points of information might have widened his position from the top spot.
Add one more point in favor of the Kings county leader.
He won the round.
Minus two against the ambitious, national campaigner and media darling.
Anyone keeping score might note that both Yang and Adams are perceived favorites in the race to City Hall.
Stringer, another close contender in the race scored admirably despite recent controversy surrounding sexual misconduct.
Not only did he seem to shrug off the allegation against him but addressed the issue with such abandon, it seemed no one bothered to dirty the debate with unsubstantiated claims.
"I want a resolution…the facts will decide."
The topic dropped like a clunker and never resurfaced.
Stringer held his own scoring more often than not touting his record as city comptroller.
A political ad afterward upped his credibility when an Asian youngster endorsed his progressive legacy.
Big scorers established the reputations of Wiley, Morales, Garcia and McGuire as viable leaders.
Garcia earned endorsements from the Daily News and the New York Times lavished kudos on her performance.
A graduate of Stuyvesant High School, alums from the prestigious Manhattan institution proved to be cheerleaders in the virtual space.
While each candidate scored well, there were no real losers to boot. However, Donovan seemed a low scorer if only for his insistence on re-affirming the role he played as an Obama ally.
Two more debates will help decide whether eight is enough to determine who best qualifies to replace the two term mayor.
Republican candidates will take the hot seat on May 26.
The deadline to register to vote in the primary election is May 28. Early voting begins June 12.
Catch You On The Inside!