Music
Global Reggae party traces roots 'From Jamrock to Hip-Hop'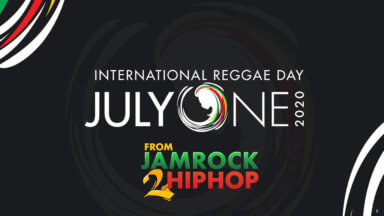 For the 26th year, International Reggae Day will hail the Jamaica beat and its messaging which has enlightened a global audience about issues focusing on human and civil rights, racism/apartheid, politics, love, war, health, Rastafari, Africa, marijuana and a myriad of poignant topics.
Borne with a mandate to 'unite, uplift, inspire' the initial event was inspired by an address to women given by South African freedom fighter Winnie Mandela when she visited the Caribbean island with her husband who had just been released after serving a 27-year prison sentence for trying to unite, uplift and inspire his country.
Motivated by the message from the African ambassador, Rastafarian Andrea Davis said 14 years after the passing of reggae legend Robert Nesta Marley in 1981 she felt compelled to launch a commemorative annual to celebrate the music the Jamaican legend popularized.
Since the inaugural celebration which featured an all-inclusive concert in Kingston, media integration, and tributes to founders and ambassadors, the July 1 event has expanded with a poster contest, yoga sessions, tree plantings, tours, fashion shows, panel discussions, online media festival, and tributes to pioneers and distinguished achievers of the genre. Each year adding to its already full agenda, IRD has not only expanded but evolved to become a global "One Love" rally.
This year's honorees read like a roll call of radio's friendliest, club favored, crossover hybrid of dancehall/hip-hop achievers.
2020 recipients include: Christopher "The Notorious BIG" Wallace, Dwight "Heavy D" Myers, Trevor "Busta Rhymes" Smith Jr., Carl "Shinehead" Aiken, William "Supercat" Maragh, Wyclef "The Fugees" Jean, Damian "Junior Gong" Marley, Anthony "Beenie Man" Moses, Rodney "Bounty Killa" Price, and Sandra "Pepa" Denton, — one of two rappers from the trio with DJ Spinderella to form Salt- N-Pepa.
That they all charted to Billboard Magazine's measure of acceptability, each also represent the 2020 vision Davis and her organizers decided to be the theme – "From Jamrock To Hip-Hop."
Jamaicans have always claimed its role in the emergence of America's rap expression. And while griots and some pioneers attribute the melodic poetic rhymes to early 'toasters' from the island, organizers of the annual contend that the roots of the entire hip-hop culture sprouted from the island nicknamed Jamrock.
Compounded with attribution to Kool Herc, an immigrant to the Bronx who back in the 70s entreated New York partyers to sound system stylings common to dancehall revelers throughout Kingston, rappers have often yielded to the claim.
Back in the day, allegedly, Herc "mixed' recordings of some of the trailblazing 'toasters' on the island who spontaneously talked over musical notes to create hits documenting the occasion.
Instead of replaying radio hits, sound system operators would present a kind of open mic session where creative talents would compete to talk a topic to music.
On most occasions rhymes ruled sessions.
Braggodoccio dictated the winner.
Akin to African griots whose storytelling technique informed villagers, toasters and their rhythms established dons, kings, champions and rulers of the dancehalls.
Herc's deejay tactic here earned him street cred, a reputation, a fan base and ultimately the kind of respect imitators realized had been cultivated in Jamrock
Not only did young immigrants and children of immigrants rally to his sessions but many fused cultures to create a lifestyle which now accounts for the most competitive music economy, millionaires, billionaires and an empire.
Reggae's expansion from a local beat to an entire American culture stakes claim to the advancement of graffiti/art, breakdance, fashion, film, hairstyle and trends that began on the east coast travelled to the west coast before exploding in the Far East, the West and the throughout the world.
With African reggae, Asian reggae, Latin — Reggae Espanol, and other forms of indigenous hybrid replications throughout simultaneously adding to a repertoire of rhymes from the likes of Dr. Dre, Kanye West, Ice Cube, Ice T., Tupac Shakur, Will Smith, Queen Latifah, Common, Lauryn Hill and myriads more rappers, revelers may need more than 24 hours to celebrate this IRD.
On Jul. 1, continents will converge to present virtual events from Mexico, Kenya, Australia, Bahamas, Germany, France, Spain, Brazil, Switzerland, Columbia, Scotland, India, Belgium, Portugal, Chile, Vietnam, England and the USA.
In addition to frequent reggae airplay on radio here, a 24-hour virtual reggae party, pre-recorded interviews with Kymani Marley, Buju Banton, Anthony B., Shaggy, Sean Paul, Marcia Griffiths, Wvclef Jean, and Busta Rhymes and other independent tributes will mark the date.
St. Johns University will focus on the topic; 'the Influence of Jamaican Music Culture on the Growth and Global Appeal of Hip-hop as a Global Cultural Phenom."
Slated to begin at noon Kool Herc will join Pat Chin of VkP Records and others.
Other panel discussions scheduled will originate from Kingston, Jamaica and London, England.
'Building the Reggae Mecca in a Post Covid World' will convene from Washington D.C.
A playlist will salute #DennisBrownMemorial #MarcusGarvey2020 #BobMarley 75 and #MsPat60
More than any other expression of solidarity with tenets supporting IRD –and the One Love mantra — fans of the music will display the red, gold and green colors associated with reggae music.
For more detailed information on IRD activities log onto www.ireggaeday.com
Catch You On The Inside!
The post Global Reggae party traces roots 'From Jamrock to Hip-Hop' appeared first on Caribbean Life News.