Sports
Former West Indies cricketer captain Ramnaresh 'Ronnie' Sarwan opens restaurant in Guyana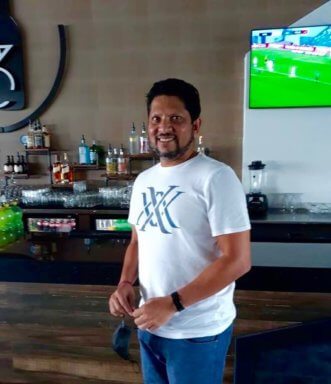 Three months ago, during a time of pressing uncertainty, retired West Indies Cricketer Ramnaresh 'Ronnie' Sarwan opened his ultramodern restaurant, RS 53 'RestoBar & Lounge' — just a stones-throw away from the Providence Stadium where he had trilled fans for many years.
It has always been the sportsman's passion to become a restaurateur. But due to his hectic touring schedule, he was forced to give up his shares in the "Windies Restaurant & Sports Bar" in Ontario, Canada, but not his dream to serve fine fare to fans and foodies alike.
During a recent, chance meeting with Sarwan at the Block M Providence, East Bank of Demerara location, where I had gone to taste the food patrons were raving about, I heard all about the enthusiasm he has to serve fine fare to fans, he said, had supported him from the stands during cricket season.
This aspiration was realized after the sportsman retired at a young age 40, the perfect timing for a sportsman, and fitting for him to dedicate his time to provide great service to fellow Guyanese and tourists.
"This is what prompted me to open a restaurant in my homeland. I always had the intention of doing so, and there is no better place, and time than now to do so. All those years I have played at the stadium, fans came out to support me, and I feel this is the time to give back to Guyana," he said.
The expansive space located on a second floor level in a business mall, is accessible via a winding staircase that leads to indoor and outdoor dining.
In addition to a bar that serves international drinks and cocktails, there is comfortable seating, from where patrons get to enjoy sporting events from large overhead television screens.
The menu has a wide selection, including rib-eyed steaks, lamb-chops, pastas, and American fare.
The international flare adds to the up-scale joint that has delicious choices of Mediterranean, and Asian Indian fusions.
But according to Sarwan, the menu changes ever so often to accommodate the taste buds of Guyanese, and patrons from every part of the world.
So far, Sarwan said the support has been great, and he is very grateful that people are coming out to support the restaurant.
"My goal is to ensure that when people come to dine, they enjoy the meal. There will be hiccups, but we are prepared to take complaints in good stride, and use them to improve our service. We are here three months now, and we have made a lot of improvement, since," he assured.
"I am happy to see the progress. But most importantly, we will get better with time," he promised.
The son of the soil, a former batsman who was captain of the Guyana Amazon Warriors for the 2013 inaugural tournament of the Caribbean League, is making a huge contribution by enhancing the scenery that surrounds the restaurant.
The Shopping mall, just 30-minutes from Cheddi Jagan Int. Airport, when completed, will include the Fitness53 Gym, Caribbean Cinemas, fast food franchises, and other businesses. A vast parking lot, restaurant and supermarket are also in the complex.
"This has been long in planning, and I'm really happy that it has come to fruition," Sarwan said of the project that began some nine years ago.
He told a TV reporter that the aim of beautifying his country is to provide a modern-day experience for Guyanese and tourists alike.

"That was one of the main reasons we started the project and hopefully, the way Guyana is going, this complex will help to modernize the country, and at least when people come to Guyana they will have good places to go to, and will speak good things about our country," he with confidence.
To learn more, call 592-265-7753, e-mail [email protected] or connect on www.facebook.com/RS53RestoBarandLounge.