World
Former SVG Education Minister Alphonso Dennie passes at 92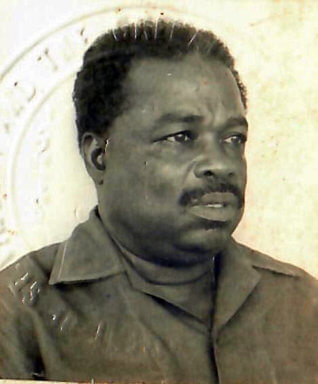 Alphonso Alpheus Dennie — a former St. Vincent and the Grenadines education minister, who, in 1972, successfully contested the North Leeward constituency for the then People's Political Party (PPP), led by late Chief Minister Ebenezer Theodore Joshua, becoming a Member of the House of Assembly, and who served as principals at several elementary schools in the country and taught secondary schools in Barbados — died on Sept. 22. He was 92.
Roslyn Dennie — Mr. Dennie's third daughter, a former Brooklyn resident, who recently moved to Florest Hills, Newark, NJ — told Caribbean Life recently that her father died of natural causes at the Milton Cato Memorial Hospital, named after the nation's first prime minister, in Kingstown, the Vincentian capital.
Although Dennie lived, during his retirement years, in Sion Hill Bay, a Kingstown suburb, Roslyn said the family will honor her father's wish to be interred in Troumaca, in North Leeward, St. Vincent and the Grenadines, where he was born, grew up, and attended and taught elementary school.
She said a date for the funeral service and interment is yet to be finalized.
"What I remember most about my father was his passion for success and excellence," Roslyn said. "He believed that a sound education would provide the skills and motivation for success in life.
"He always encouraged his children to follow their dreams and never give up until our dreams were achieved," she added. "Dad loved Shakespeare and would often quote Shakespeare for us as motivation.
"One of his favorite Shakespeare quotes was 'The heights by great men reached and kept were not attained by sudden flight, but they while their companions slept, were toiling upwards in the night,'" Roslyn continued.
Trevor Dennie, Dennie's second son and third child, who resides in Allentown, PA, also told Caribbean Life Monday night that "those who knew my dad knew that he was very straight forward.
"My very first impressions of my dad put me in awe and total admiration of his brilliance, his ambition and his striving for success," Trevor said. "He had such a passion for knowledge and learning, which he was so eager to share with his friends and family.
"And, as a result of these passions, he became one of the most successful teachers on the island," he added. "He had a strong belief that a mind is a terrible thing to waste."
Trevor said he recalled "seeing the joy" in his dad's eyes when he spoke about the successes of his students.
"He enjoyed every school subject and would always recite passages from poetry and literature," he said. "He loved poems, like 'If" by Rudyard Kipling, and poets, like Henry Wadsworth and H. W. Longfellow's.
"And, as I say goodbye to my father, I am reminded of a speech in Shakespeare's Julius Caesar that he would say from time to time: 'When beggars die there are no comets seen. The heavens themselves blaze forth the deaths of princes'", Trevor added.
"Well, dad, I'm sure there are comets all around," he continued. "And, as for me, you are a true prince, and you are soaring with princes. Rest in peace, dad. I'm so proud to be your son."
Dennie's second child and first son, Olin Dennie – a prominent lawyer in St. Vincent and the Grenadines, who had unsuccessfully contested the North Leeward seat – died on Sept. 1, 2016 in New York. He was 63.
Olin's mother and Mr. Dennie's wife, Stella Dennie, née Cottle, predeceased them, on Mar. 18, 2012, after a prolonged illness in Brooklyn. She was 82.
Roslyn said her father was born on May 16, 1928 to Arthur Alexander Dennie and Margaret Dennie, of Troumaca.
The 4th of eight children, Alphonso Alpheus Dennie attended the Troumaca Government school, where he, subsequently, taught as a supernumerary teacher.
At 22, Roslyn said Dennie became an assistant head teacher and was transferred to Union Island in the southern St. Vincent Grenadines.
After a brief stay in Union Island, she said Dennie returned to Troumaca Government School as the head teacher.
In 1950, Roslyn said Dennie married his childhood sweetheart, Stella, with the union producing seven children.
Besides Troumaca and Chateaubelair Methodist School, Roslyn said her father taught as several elementary schools in North Leeward, as well as at Gomez and Georgetown, where he was head teacher at the Georgetown Government School.
In 1962, she said he was again transferred to Union Island as head teacher.
After leaving Union Island in 1967, Roslyn said Dennie attended Erdiston Teachers Training College in Barbados for two years.
Throughout his teaching career, she said Dennie was "instrumental in achieving various scholarships in every school."
Roslyn also said her father made his foray into politics in 1967, unsuccessfully contesting the North Leeward seat for the PPP.
After leaving the teaching profession, she said Dennie managed the Oil Factory in Arnos Vale, just outside Kingstown.
But, with politics in his vein, in 1972, Dennie again contested the North Leeward seat for the PPP, with success at that time, beating the then St. Vincent Labor Party's (SVLP) John Thompson and becoming Education Minister in the short-lived Joshua-James Mitchell administration.
The alliance ended on Sept. 18, 1974, when the House of Assembly passed a vote of "no confidence" in the government after Joshua and his wife, Ivy Joshua, resigned from the government "following a disagreement with Premier Mitchell over policy issues," according to Caribbeanelections.com.
It said parliament was subsequently dissolved on Sept. 23,1974.
But, after serving for two years and eight months as Education Minister, Dennie, contesting the 1974 general elections for Mitchell's newly-formed New Democratic Party (NDP), lost to the SVLP's Thompson in North Leeward. Thompson died on Feb.29, 2018, at 87.
In 1975, Roslyn said Dennie moved with his family to Barbados, where he became a restaurant owner and taught at several high schools, including Coleridge and Parry.
He later returned to St. Vincent and the Grenadines, and managed the St. Vincent Electricity Services, Ltd., otherwise known as VINLEC, the country's electricity company.
Roslyn said her dad also served as manager of the Philatelic Bureau in Kingstown before retiring in 2001 at 73.
"His can-do attitude towards life instilled a sense of pride and self-esteem, which prepared me for life in America as a Black woman," she said.
The post Former SVG Education Minister Alphonso Dennie passes at 92 appeared first on Caribbean Life News.