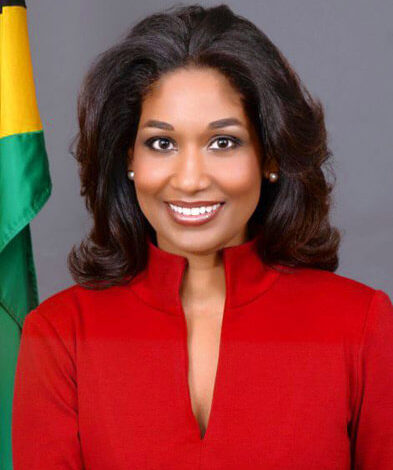 Soundly beaten, embarrassed, humiliated and scolded by voters for perennial infighting, Jamaica's main opposition People's National Party (PNP) is reorganizing for the next municipal and general elections, fearful of long-term domination if it does not reconfigure itself as a government in waiting quickly.
Humbled 49-14 by a rampant Jamaica Labor Party (JLP) in last month's general elections, the PNP leadership is preparing for elections for the presidency of the party early next month with two current lawmakers battling to take over from former leader and ex security minister Peter Phillips.
Phillips had promised to step down if the party had lost the early September general elections and appears on course to do so, apparently recognizing that his time is up. Exit polls analysis had indicated that the PNP was not only a bit out of touch with the Jamaican electorate but Jamaicans had also seemed to favor a younger generation of leadership especially so that Prime Minister Andrew Holness is 48 years old compared to Phillips at 70 and representing the current rather than the previous era.
In the current set up for the Nov. 7, 1993 Miss World and lawmaker Lisa Hanna is being pitted against fellow parliamentarian Mark Golding with the stakes appearing to be leaning towards Golding. If Hanna wins, she would become only the second woman after former president and ex prime minister Portia Simpson Miller to lead the PNP. Hanna is also party treasurer.
Campaigning is heating up with less than two weeks to go. Party leaders and veterans had agreed that the PNP needs to retool quickly before the JLP fully entrenches itself in office, bearing in mind that the PNP had suffered an even more humiliating loss in the bloody, violence-prone 1980 elections 51-9 when there were 60 constituencies. The party reorganized quickly and was back in government at the next contest.
Respected political analyst Mark Wignall said Golding will walk away with the contest as he appears to have a better grasp of the issues. He also contends that the PNP must elect someone with the ability to fight the JLP and lead the country in the future.
"There is no way that a party that fell to the devils of divisiveness and endless factionalism can dare to present a candidate in Lisa Hanna, whose words are promising us that she is better suited to bring an end to such political bitterness. Are we joking"? Wignall asked in a recent column. He also contended that some elements in PNP were trying to install a young person just for the sake of it, to match Holness at 48 just for the sake of youth over leadership abilities. That would be a political mistake he said.
"As I have said before, so far, what we have heard from both camps are words. In judging those words, Golding not only sounds believable but actually comes across as engaging and anything but boring. It is obvious that he understands his role and the duty that brought him to this point.
He says that Hanna has unity issues in her own constituency and is not quite ready for the big stage.
"It is not a secret that Hanna has been a divisive element in her constituency to the point that at one stage, there was almost an open revolt by her councilors. In a race for PNP president, one would expect that all of the candidates would at the very least have the support of their own councilors. The councilors would then be able to present the groups and delegates to the aspirant on a platter."
Hanna barely won her southeastern St. Andrew district by 31 votes and could have an uphill battle over the next two weeks.
The post FIGHT FOR SURVIVAL appeared first on Caribbean Life News.