News
Eugene partners with Diocese to co-name Church Avenue 'Pierre Toussaint Boulevard'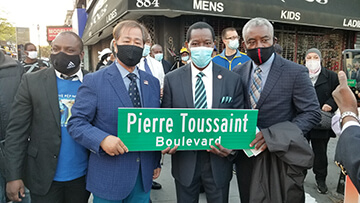 Brooklyn Councilmember and mayoral candidate Dr. Mathieu Eugene on April 25 partnered with the Catholic Diocese of Brooklyn and Queens to co-name Church Avenue in Brooklyn Pierre Toussaint Boulevard in honor of the renowned Haitian philanthropist and founder of Catholic Charities.
In 2019, Dr. Eugene, the first Haitian to be elected to New York City Council, sponsored legislation in the Council, Intro 1631, to co-name Church Avenue as Pierre Toussaint Boulevard.
On Sunday, Eugene was joined by Catholic clergy, elected officials, immigration advocates and other officials at the co-naming ceremony.
Among those in attendance were Rev. Neil Edward Tiedemann, director of Diocese of Brooklyn Ministry to Caribbean and Black Catholics; Rev. Monsignor Joseph P. Malagreca, pastor of Holy Cross; Rev. Fr. Hilaire Belizaire, coordinator of Ministry to Haitian Immigrants, Diocese of Brooklyn; Rev. Fr. Rony Mendez, coordinator of The Brooklyn Chapter for the Cause of Pierre Toussaint; Rev. Jean J. Rameau, Catholic Charities Office of Missions, Vincentian Outreach Coordinator; Most Rev. Guy Sansaricq, director of National Haitian Apostolate; and Monsignor Alfred P. LoPinto V.E. Vicar of Catholic Charities.
Prior to unveiling the sign, church leaders led prayers outside Holy Cross Roman Catholic Church on Church Avenue and Veronica Place. Distinguished guests included Senate Majority Leader Chuck Schumer; Assemblymember David Weprin; Magalie Austin, senior advisor to the mayor and director of the mayor's Office of Minority and Women Business Enterprise; Kings County Civil Court Haitian American Judge Dweynie Esther Paul; and Taekwondo Grandmaster Y. H. Park.
"Pierre Toussaint was a renowned Haitian philanthropist, humanitarian, and founder of Catholic Charities in New York City," Eugene said. "His dedication to humanity and his ability to help those in need was a cornerstone of our city's history, and his legacy is a testament to the historical significance that our immigrant community has served in the founding of the United States.
"Today is a momentous occasion; it is a great event," he added. "We are all here to pay tribute to a wonderful human being."
The councilman said that when he looks at the life of Pierre Toussaint, he feels "empowered and inspired, because he was enslaved and came to this country as an immigrant like myself.
"When you are an immigrant, you come to the United States because it is a great country, a country of opportunities," he said, adding: "But people will face a lot of challenges when you are an immigrant."
As a slave, Eugene said Pierre Toussaint didn't give up, becoming "a venerable person because of what he has done as a human being for New York City and for immigrants.
"For those who were poor and for those who needed shelter, and for those who needed food, he did exactly what Jesus said to do – to be your brothers' keeper," he said.
"Pierre Toussaint opened his door for those who needed shelter," Eugene added. "When you see that someone who was a slave bought the freedom of other people, this is something remarkable."