News
Eugene honors life, legacy of Congressman John Lewis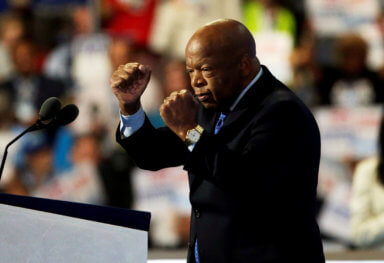 Brooklyn Democratic Council Member Dr. Mathieu Eugene on Sunday honored the life and legacy of civil rights icon and Congressman John Lewis, saying that Lewis "empowered all of us with his vision of respect and the betterment of our society for generations to come."
Lewis, who was born on Feb. 21, 1940 and died on July 17, succumbed to Stage 4 pancreatic cancer. He was 80.
The outspoken Democratic congressman, who represented Georgia's 5th district in the US Congress for 34 uninterrupted years, was chairman of the US House of Representatives' House Ways and Means Oversight Subcommittee. He was considered "an apostle of nonviolence."
"Today, the world paid tribute to an icon of the civil rights movement, Congressman John Lewis, who was honored in Selma, Alabama for the personal sacrifices he made towards achieving human equality," said Eugene, the first Haitian to be elected to New York City Council, on
Sunday, when a memorial service was held for Lewis in Selma, Ala.
"He truly embodied the spirit and bravery of a freedom fighter and a noble public servant, who believed that we can only achieve progress when we work towards a common goal as human beings," added Eugene, representative for the predominantly Caribbean 40th Council District in Brooklyn. "I join mourners across the United States and around the world in paying tribute to Congressman John Lewis and his place in history as an impassioned proponent for equality and human rights.
"As someone who was born and raised in Haiti, and the first Haitian-American elected to the government in New York, I stand on the shoulders of John Lewis, because of his unrelenting determination to end discrimination and injustice," Eugene continued. "I am truly humbled by the immense struggle that he underwent to make my journey, and the journey of so many of my colleagues possible in the United States.
"On the several occasions when I met with John Lewis, I was moved by his resolve in the pursuit of justice for all people," he said. "His wisdom and sagacity were deeply inspiring and continue to influence my advocacy for equal rights. As a culture and society, let us continue to further his legacy of pursuing human equity."
A cross-section of influential US legislators on Monday paid their respects to Lewis in the Capitol Rotunda before his flag-draped casket was moved the Capital building in Washington, D.C. so he could be honored by the public.
In paying tribute to Lewis, Caribbean American Democratic Congresswoman Yvette D. Clarke said "America has lost one of its greatest heroes.
"He was a great patriot who put his very life on the line in the pursuit of justice in the nation he loved," said Clarke, the daughter of Jamaican immigrants, who represents the 9th Congressional District in Brooklyn. "He made it his duty to disrupt the status quo, to 'get in the way' and to demand civil rights and justice for Black people of the South (United States) and by extension the poor and disenfranchised across the country."
Clarke, vice chair of the US Congressional Black Caucus (CBC), of which Lewis was a long-serving member, said Lewis often referred to his penchant for civil disobedience as "good trouble."
"His courage and bravery in the face of violence and cruelty was truly heroic," she told Caribbean Life. "Growing up as the son of Alabama sharecroppers, Representative John Lewis saw and experienced the pervasive impact of racism in the Deep South firsthand."
Clarke said Lewis's experiences compelled him to reach out to slain US civil rights leader the Rev. Dr. Martin Luther King, Jr. and become fully engaged of the Civil Rights Movement, staging sit-ins in Nashville, Tennessee, as a Fisk University student, rising to become chairman of the Student Non-Violent Coordinating Committee (SNCC), taking part in the Freedom Rides to desegregate the South and "leading one of the most prolific and effective protest movements in American history."
The congresswoman said that, on Mar. 7, 1965, Lewis – who was born and raised in Troy, Alabama, a segregated town of the "Deep South" of the United States – was beaten "within an inch of his life" by police officers while leading hundreds of marchers across the Edmund Pettus Bridge in Selma, Alabama.
She said Lewis was determined to obtain voting rights for Black people at all costs.
"John often expressed and deeply believed that the right to vote was sacred," Clarke said. "Despite the brutal attack, he never let up on his quest, the fight for justice."
Lewis was elected and sworn in to serve in the US House of Representatives in 1986.
"Throughout his tenure, Congressman Lewis was a fierce advocate for the protection of civil rights, voting rights, human rights, and he never hesitated to speak out against racism and injustice," Clarke said. "I count it an honor and a privilege to have served the past 13 years and 7 months with this living legend and civil rights icon as my friend, mentor and colleague.
"As a direct beneficiary of his iconic leadership, I will never forget being moved by our common vision to fight for common sense gun law reforms and participating in the legendary 25-hour sit-in on the House floor when Republicans refused to take up gun control legislation," she added. "He was an icon in Congress and a moral compass in the midst of us all. Indeed. Congressman John Lewis was the 'conscience of Congress.'"
Clarke said while he viewed Lewis as a "Giant of a Man", he "always displayed an authentic sense of humility that was almost divine.
"You could not be in his presence without feeling a tremendous sense of honor and reverence for the sacrifices he made while striving to create a more just civil society and by extension a just nation," he said. "There are not enough words to describe the pain that comes from such a loss.
"However, I have found solace in knowing John Lewis fought the good fight, he finished his race and he kept the faith," Clarke added. "He is on the express train to Heaven."
She said the best tribute that she can and must pay to Lewis is "to use every moment and opportunity from this day forward to continue his legacy by 'never giving in, never giving up, making good trouble' and doing my part to advance our beloved community."
The post Eugene honors life, legacy of Congressman John Lewis appeared first on Caribbean Life News.