World
Dimple Willabus opens campaign office for NYC Council District 46 run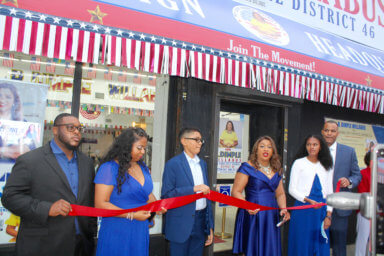 Dimple Willabus, a feisty candidate for New York City Council District 46, stood up to the Democratic establishment which wanted to kick her off the ballot in favor of their candidate, even before the June 22 primary.
The Guyanese-American, "results-driven" activist, wife, and mother of three, who entered the race two years ago, however, pressed on, and opened her campaign headquarters on Saturday, April 24, with a promise to achieve a more just, equitable community, bringing inclusion to Brooklyn when she is elected.
She welcomed supporters and campaign volunteers to the 5012 Ave. N building, and alluded that she will become the number one candidate in the crowded contested race.
Confident she is the most viable candidate who will be victorious at the polls, Willabus  said it was time for "our community to have a leader who will listen to the voices of the people, before they speak for the people."
The college educated, media professional and former Brooklyn business-owner, reflected on the cohesive family upbringing and discipline instilled by her parents, noting that she wants to create a community that allows all stakeholders to have an opportunity to be treated fairly, with allowances for social and economic prosperity.
Against a backdrop of bold images of herself, under the theme: Integrity, Leadership, Commitment, and calls to "Join the Movement," Willabus is determine more than ever to create history as the first woman, first minority and first Guyanese, to represent District 46, that encompasses, the southeastern Brooklyn neighborhoods of Gerritsen Beach, Marine Park, Bergen Beach, Mill Basin and Canarsie.
The Mill Basin resident and Caribbean Life Impact Award recipient, is a Brooklyn Borough president appointee to the local Community Education Council, and president of CEC District 22.
Anaya, praised her mother who serves on the Mayor's Education Task Force and as a member of the Brooklyn Chamber of Commerce M/WBE committee, for making a difference in the lives of youth in Brooklyn.
"The community comes first, thanks for your support and commitment, this campaign is not only for Dimple, it is also for you," said her husband, Winston Willabus, an NYPD lieutenant, who thanked supporters for their commitment to the campaign.
Son, Brandon, said his mother left her bank job to take care of his sister and him, putting aside her ambitions, while turning negative energy into positive energy. He added that she inspired him to give back to the community.
"She will do the same for you, that is why she is my pick for city council," he said.
Emcee Dellon Cheste who called Dimple an inspiration to females recalled the many food distributions Willabus led throughout the coronavirus pandemic, adding, that she was someone who inspired others to put their passion into practice.
The candidate is promising to bring about change including fighting for equal health care and affordable housing,
Her mother, Gloria Singh, recounted Dimple's achievements, saying she will be the best city council woman. "She will make everything work, and will make history as the first Guyanese to serve in the seat."
"I am very proud of her. She is brave. She is smart, she would never turn people away," said the parent, before singing a hymn for her daughter.
Sing's eldest daughter, Chantelle Grant, a teacher and graphic designer designed the space that looked more like a presidential campaign office, showcasing a red, white and blue motif, and decorated with mini flags from countries of immigrant residents.
With husband Brian besides her, Grant praised her mother, whom she said inspired her to become all that she is today.
Willabus, who said her campaign experienced an uphill battle and many challenges along the way, received spiritual blessings from her longtime clergyman, Pastor Ellsworth Chester.
Numerous friends, volunteers, supporters and family members, congratulated the fledgling politician, and wished her every success, as she continues to campaign for the District 46 seat.
Early voting in New York starts on June 12, and runs until June 22, 2021.
To learn more, go to www.dimplewillabus.com, https://www.facebook.com/DimpleWillabus2021, [email protected]