Sports
Defense stands tall as US draws against England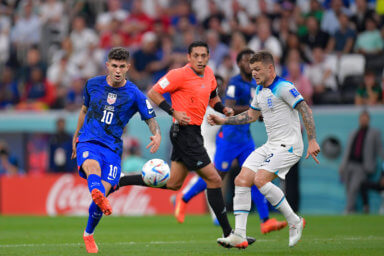 The United States collected their second point of the FIFA World Cup Qatar 2022 with a 0-0 draw against England in Group B action on Friday night at the Al Bayt Stadium in Al Khor, Qatar.
CONCACAF said the result puts the US in Third-Place in the group table, with two points, ahead of their group stage finale against Iran on Tuesday in which a win would send the US to the Knockout Stage of the tournament.
"England enjoyed the brighter start of the two sides with most of the early looks at goal, but it was the US who nearly struck for an opening goal in the 32' when Christian Pulisic took a pass from Yunus Musah and fired a shot that rang off the crossbar," CONCACAF said.
It said the US continued to "pile the pressure on, but they had to be wary of England on the break, and Bukayo Saka almost found a goal right before halftime for the Three Lions off a pass from Luke Shaw, but his effort missed the target."
CONCACAF said the second half was "just as cagey, with the two sides trading punches, but nothing that troubled the two goalkeepers.
"Things loosened up with the introduction of second half substitutions for both teams, making for a wide-open final 15 minutes," it said.
CONCACAF said the best foray forward for the US was "a ball funneled over to Shaq Moore on the right flank, but his intended cross for Gio Reyna was cut off by the England defense.
"England would get the final scoring chance in the second half stoppage time via a free kick, but the US were spared when Harry Kane's header sprayed wide, leaving the teams with a share of the points," it said.
CNN said that facing an England team full of superstars that reached the European Championship final last year is "no easy task, but the Americans looked more than at home."
"We had the majority of the chances, we were more dangerous, but just couldn't get in the back of the net," US midfielder Weston McKennie told reporters after the match.
"I thought it was a really solid performance from the team against a good opponent," Pulisic, the player of the match, told reporters after the game. "A draw is not the worst thing, but I felt there were stretches of the game where we showed dominance. We even could have won the game.
"This team has come a very long way, and I think we should be proud of the performance; but, most of all, it should spark confidence in the team," he added.
CNN said England missed the chance to qualify for the next round but would need to lose heavily to Wales to miss out on a place in the knockout stages.