News
Cuba joins CARICOM's special intergovernmental task force on agriculture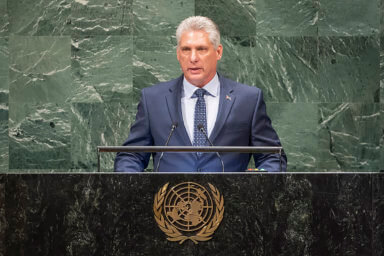 Caribbean Community governments have allowed Cuba to join a special intergovernmental task force on agriculture as the bloc, among the first globally to break Cuba's diplomatic isolation back in 1972, works to reduce a US$6 billion dollar annual import bill comprising food and related products from the US, Canada and other western nations.
After the two sides met on at summit level on Tuesday in the Eastern Caribbean nation of Barbados to observe 50 years of unbroken relations the bloc said in a statement that Cuba had accepted its offer to become a task force member and its "participation is a boost particularly to the technological aspects" the regional initiative to become food secure and reduce dependence on imports from western and other nations.
"Closer collaboration with Cuba in the area of agriculture will include the establishment of a food terminal to provide a consistent supply of food items to Cuba. The task force on food production and food security was established to propel the region's thrust towards reducing its food import bill by 25 percent by 2025," it said, hailing Cuba's coming on board.
President of the Republic of Suriname Chandrikapersad Santokhi speaks at the UN General Assembly 76th session General Debate in UN General Assembly Hall at the United Nations Headquarters Wednesday, Sept. 22, 2021. John Angelillo/Pool Photo via AP
The summit was attended by at least eight heads of government while the Cuban delegation was led by President Miguel Mario Díaz-Canel Bermudez. CARICOM Chairman, President Chan Santokhi of  Suriname said the region's relations with Cuba are of special significance to CARICOM and this is one reason why Guyana, Jamaica, Trinidad and Barbados decided to end Cuba's diplomatic isolation in the hemisphere by establishing relations back in 1972.
"The signing on 8 December 1972, of the agreement establishing diplomatic ties with Cuba, was a bold and unprecedented undertaking, which sent a statement to the world that Cuba is integral and vital to the mutual advancement of the Caribbean. And, since the signing, we have experienced consistent regular dialogue and steady strengthening of those friendly ties. Many developments have tried and tested the fortitude and solidarity of our CARICOM-Cuba relationship.  Yet, the community has never deviated from our principled position," he said.
Meanwhile, the Caribbean Development Bank said recently that of the 15 nations, only Guyana, neighboring Suriname and Belize produce more than 50 percent of their own food needs, taking advantage of their larger land masses compared to the smaller island nations like Jamaica, Trinidad, Barbados and those in the Eastern Caribbean. Some nations like The Bahamas even import cucumbers from nearly Florida, a development leaders have said is unacceptable.
Worried now that the food bill is spiraling out of control at a time when prices are skyrocketing globally, governments in the past two years launched the special task force mandated to increase regional production and reduce imports by encouraging consumption of home grown foods instead of those imported from the US, Canada, the UK and New Zealand among others.
Efforts to ramp up food production and reduce imports in the Caribbean have been ongoing for decades but some of the more progressive governments and agricultural activists say they get serious pushback from entrenched business interests whenever they attempt to change the narrative. For example, a concerted effort to reduce the amount of frozen chicken Eastern Caribbean nations were buying, ran into problems because the main importer was a key financier for some of the governing parties, undermining plans to ramp up local production.