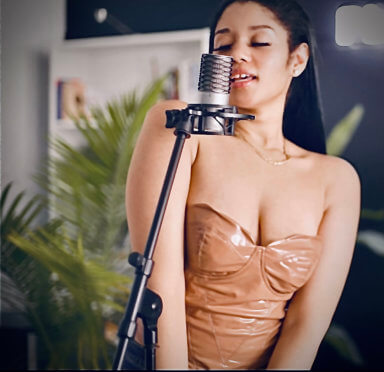 Brooklyn-based, Haitian-American singer/songwriter and rising star, Reyna Von Chase, whose melodies and modern lyricism represent a new generation's sound, has released her single, "Crush on You."
According to Adrian Stupica, of the Brooklyn-based entertainment company PlaybookMG, "Crush on You," dropped in October, "tells the story of a brokenhearted woman who is hesitant to love again when she finds herself infatuated with a crush.
"This universal story of love is told through contemporary quips and catchy beats, revealing the duality of strength and vulnerability that many women balance.," Stupica told Caribbean Life on Tuesday.
He said the song has been streamed over 17,000 times on Spotify and has become Von Chase's breakout hit.
"She cannot wait to perform for her fans, also known as chasers, especially since the pandemic has prevented live performances," Stupica said. "This desire led to Reyna recording a series of live session videos, where she performed unplugged versions of her singles 'Crush on You' and 'Favorite Girl.'"
He said the haunting piano version of "Favorite Girl" adds a dramatic tone to the song.
"The live version of 'Crush on You' (both available on Youtube and Spotify) reveals a sense of longing that wasn't present in the original," Stupica said. "The acoustic guitar, played by fellow Brooklyn artist Steff Reed, gives her highest-streamed single new life and renewed meaning.
"The stripped-down arrangement proves that the lyrical content and melodies of Reyna Von Chase run deeper than R&B," he added.
Von Chase said: "Once I heard the single with an indie vibe, it inspired me to take the track a step further," disclosing that she reached out to DJ RobiDLight (Robinette Jones) to collaborate on a remix to "Crush on You" and to introduce it to a new audience.
With the dance remix, Stupica said Von Chase "shows a different side of herself with this third variation.
"It is more uptempo than the original and gives the single an upbeat sensibility," he said. "This version of 'Crush on You' is intended for her LGBTQIA+ fanbase and anyone who loves dance music.
"Reyna Von Chase is on a mission to connect with chasers from all walks of life and teach them the importance of independence and self-preservation," Stupica added. "The 'Crush on You (Remix)', featuring Robinette Jones, is sure to gain the same positive response as its previous iterations.
"Hearing 'Crush on You' in three different ways gives it three different vibes and allows one song to exist in various genres," he continued. "As a woman of color in the music industry, it is challenging to avoid being categorized into a box and manipulated into an artist the executive wants them to be.
"Reyna Von Chase refuses to submit to the old ways of the music business and is ready to redefine the popstar for her generation," Stupica said. "Her unique voice and modern perspective break the mold and are a recipe for professional longevity. Reyna Von Chase is a star on the rise and an artist to keep an eye on."
The post 'CRUSH ON YOU' appeared first on Caribbean Life News.