Music
Chandler-Waterman kicks off 'It's not an I thing; it's a We Ting' Caribbean Celebration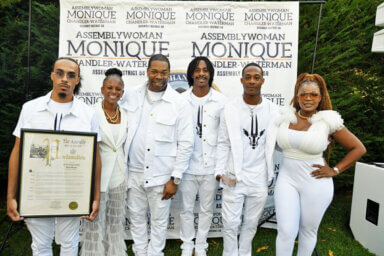 With Jamaican and Barbadian blood running through her veins, Brooklyn Assemblywoman Monique Chandler-Waterman values her Caribbean roots and was excited for the opportunity to have a unifying Pre-Labor Day Kick-off, highlighting leadership across the Caribbean Diaspora.
This star-studded "It's not a I thing; it's a We Ting," convening took place at Garden 54, at 314 East 54th Street, in the heart of Assembly District 58, comprising nearly 90 percent of Caribbean immigrants.
In the spirit of unity, Chandler-Waterman, whose parents hail from Jamaica and Barbados, took a term that has always remained a structural family link and extended it to community, with a convening that included star-studded sightings from Omar Hawthorne of Golden Crust; Trevor George Smith, also known as "Busta Rhymes," along with his sons T'ziah Wood-Smith, T'khi Wood-Smith and Trillian Wood-Smith; and VH1's Love & Hip-Hop Atlanta, Dr. Meda Leacock.
NYS Assemblywoman Monique Chandler-Waterman with entertainers. Photo courtesy Office of Assemblywoman Monique Chandler-Waterman
Countries from across the Caribbean Diaspora were represented including Anguilla, Antigua & Barbuda, Aruba, The Bahamas, Barbados, Bermuda, Cayman Islands, Cuba, Dominica, The Dominican Republic, Grenada, Haiti, Jamaica, St. Lucia & Grenadines, St. Kitts & Nevis, Trinidad & Tobago, Turks and Caicos Islands, the Virgin Islands, Guyana and much more.
"It truly warmed my heart to see so many countries highlighted for our second annual pre-Labor Day kick-off, where we celebrated communities that have helped to contribute to the melting pot of New York State in a myriad of ways," said Assemblywoman Chandler-Waterman.
She said the event "truly resonated with all attendees gearing up for Labor Day," including rapper, producer and actor Busta Rhymes, who lived in Assembly District 58 in East Flatbush.
"Everything about me, and what you will see the foundation and the root of it comes from my Caribbean East Flatbush upbringin," Busta Rhymes said. "I know this queen [Assemblywoman Monique Chandler-Waterman] of the East Flatbush community."
Chandler-Waterman said the Caribbean kick-off "would not be so without real Caribbean entertainment," which included singing with Hilton Samuels; steel pan performances with Muzical Marley and Jewel Alexis-Josey; masquerade models; and Moko Jumbies.
Assemblywoman Monique Chandler-Waterman, her family with Honorees Busta Rhymes, his sons, and Dr. Meta. Photo courtesy Office of Assemblywoman Monique Chandler-Waterman
This year's 'It's not a I thing; it's a We Ting,' honorees included: Nicole Langlaise,  Primary Care Clerkship Coordinator at SUNY Downstate; Dionne Davis, administrator at SUNY Downstate; Ernest Skinner, former Community Liaison of Councilman Jumaane Williams; Pernon Dunston, Legacy of Father Samuel Dunston; Alishia Goodridge, Assistant VP for Gov't and Community Relations, Downstate Health Sciences University Downstate Hospital; Rose Graham, administrator at NYC DOE/CSA; Bishop Eric Garnes, Senior Pastor or Tabernacle of Praise; Dr. Donald Moorea; Dr. Jean Joseph, former chair of the West Indian-American Day Carnival Association; Inspector Gaby Celiba, first Caribbean national to lead the 67th Precinct; Paula Harris, Sundance Older Adult Center; Camille Hastick, legacy of father, Roy Hastick of CACCI; and  Khari Edwards, legacy of Elenora Bernard.
Others were: Calvin and Latoya Sennon, owners of TriniJam Restaurant; Raymond Luke, chair of Sesame Flyers; Urla Luke, Kings County Hospital Behavior Center; Danielle Jones, NYS Comptroller DiNapoli's Office; Kamla Millwood, legacy of father Kenton Kirby, late Editor Emeritus of Caribbean Life; Ann Marie Adamson, Emblem Health; Jewel Alexis Josey, co-founder of non-profit Where Love Wins, Inc.; Porez Luxama and Dr. Christina Pardo, Life of Hope; Linda Kirk, Small Business Owner; Dr. Marie Paul, Haitian Nurses Network; Shaun Walsh, NY Whatzup Media; Omar Hawthorne, owner of Golden Krust; and Weyman Carey Family, owners of Garden 54.