News
Casym's 'Flying High'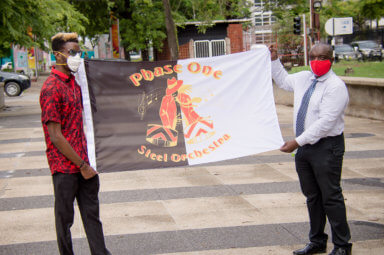 Brooklyn-based Casym Steel Orchestra is reputed to be one of North America's leading steel orchestras, and in keeping with that reputation, the celebrated music outfit has participated in the first-ever global flag raising ceremony to commemorate Steelband Month in Trinidad and Tobago, dubbed "Flying High."
"Casym Steel Orchestra has affixed its brand to the innovative project in the 'Land of the Steelpan,'" Sean Nero, chief executive officer of the Trinidad and Tobago-based Steelpan Authority, told Caribbean Life on Tuesday, disclosing that Afropan Steelband from Canada is the other steelband from North America taking part in the invitation-only event.
Conceptualised by the Steelpan Authority, Nero said "Flying High" is an exhibition of artwork (logos) of steel bands, emblazoned on flags. 
He said these banners will "dance in the wind" above Port-of-Spain, the Trinidad capital, on the Brian Lara Promenade, between St. Vincent and Edward Streets, from Aug. 17 to Sept. 24, 2020. 
Other participating global steel orchestras are: London – Mangrove Steelband and Phase One Steel Orchestra; Japan – Sonics Tokyo; and Trinidad and Tobago – Golden Hands, Royal Pan Illusion; Scrunters Pan Groove; Hill Toppers Steelpan Academy; T&T Defence Force; Courts Sound Specialists of Laventille; Uni Stars; and Southern Marines Steelband Foundation.
"Flying High is an illustration of true cultural pride," Nero said. "Traditionally, steel band flags go into storage on Ash Wednesday in Trinidad and Tobago. Naturally, this will occur at a different timeline, based on the orchestras geographical location, of course.
"Here comes the Steelpan Authority with an original concept to illustrate how beautiful pieces of artwork do not need to stay locked in storage," he added. 
Nero said that, originally, this project "commemorates observances from Emancipation (the call of our ancestors) to independence (the story of self-governance). 
"It is instructive to note that, couched in between those two dates, is Steelpan Month," he said. "But Team Steelpan Authority applied for and successfully obtained a 24-day extension. Flying High will run until Republic Day (Sept. 24) in Trinidad and Tobago."  
August 2020 marked the 28th anniversary since the steelpan was declared the National Musical Instrument of the Republic of Trinidad and Tobago. 
Nero noted that the decision to heighten the profile of the musical instrument was made by the Government of the late Prime Minister Patrick Manning on Aug. 30, 1992. 
In his Independence Day message, Manning declared that the steelpan would become the national musical instrument of the twin island republic. 
To mark the occasion, Chaconia Medals (Gold) were bestowed on Renegades and Desperadoes Steel Orchestras for excellence in culture.
"It seems fated, that more than two-and-a-half decades later, steelbands have set a new course, utilizing the 'Flying High' platform, where the steelband world comes together without striking a musical note," Nero said.
For the Steelpan Authority, he said hoisting of these flags to coincide with Steelpan Month represents three pillars: "Salute the legends who paved the way (too many of them unsung heroes); recognizes the tremendous work being done by those in the present space and thirdly; (and) symbolize as a source of strength should those in the future be in need of such, in addition to it being a guiding light in the event any of them lose their way."
The post Casym's 'Flying High' appeared first on Caribbean Life News.