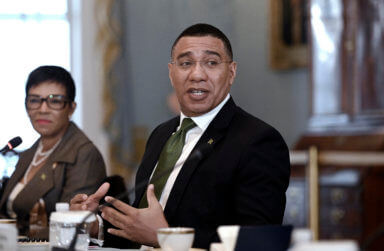 Barbados
The Barbados government is working on lowering taxes on healthy foods. Minister of Energy and Business Development Senator Lisa Cummins said it has been suggested that price reductions for some of the healthy foods should be in the 20 to 30 percent range. She said the time had come for a review of the tax structure on healthy foods.
"We are committed to also working with you to see what that healthy basket of goods looks like. We are committed to seeing with you how I could pay less for healthier items upfront as opposed to paying a surcharge for if I want to eat brown rice versus shite rice if I want to be able to eat things that are lean versus things to that are cheap," she said.
In 2022, the Heart and Stroke Foundation of Barbados (HSFB) commissioned the study, led by Deputy Principal of the University of the West Indies, Cave Hill Campus Professor Winston Moore and Lecturer Dr. Antonio Alleyne, to examine whether food prices were prohibitive to healthy eating and to recommend a policy approach to making healthy foods more affordable.
It pointed to the high tariffs attached to food imports on healthy foods such as fresh vegetables and fruits with an average import tax of 45% as compared to the low taxes of average 35% placed on unhealthy items high in salt, sugar and fat, including cookies, ice cream and chips.
CARICOM
The Belize-based Caribbean Community Climate Change Centre (CCCCC) recently said it has signed a Memorandum of Understanding (MoU) with the United Kingdom for work to be done under the Small Island Developing States Capacity and Resilience (SIDAR) program.
The centre said that the MoU is for £2.7 million and that the SIDAR program represents delivery on part of the UK's overall commitment of £11.6 billion for climate finance, with a specific aim to support adaptation and resilience in Small Island Developing States (SIDS).
The SIDAR Caribbean program aims to augment access to climate finance and support the programmatic acceleration of climate-resilient actions in selected Caribbean countries. The UK's support to the center will help Caribbean Community (CARICOM) member states address the challenges they face in accessing climate finance.
The center said non-ODA eligible member states will be invited to participate in lesson learning and virtual training activities.
Through the center, the program will help address the barriers that Caribbean SIDS face in planning to or, accessing and effectively utilizing climate finance. The program aims to facilitate a sustainable increase in the flow of climate finance, enhance project development and implementation capabilities, and support simplification of the multilateral funding processes with which they must engage.
Dominica
Dominica's Prime Minister Roosevelt Skerrit expressed his country's gratitude to China after Bejing agreed to fund the construction of six schools totalling US$30 million.
Speaking at the ceremony for the construction of the schools, Skerrit said China is once again demonstrating in a most tangible way the depth and sincerity of its friendship with Dominica.
"There is no denying that Dominica has benefitted from repeated expressions of true friendship from the People's Republic of China. In sports, in road infrastructure, agriculture and health we have witnessed, over the past 19 years incredible generosity from the Chinese people and government," Skerrit said.
"Today, as countries over the world experience shortfalls in revenue and economic uncertainty caused largely by the fallout from the COVID-19 pandemic and the ongoing conflict between Russia and Ukraine, China is keeping true to its words to fund these six new schools in Dominica," he added.
He said the investment underscores his administration's ongoing commitment to advancing human development as part of a long-term strategy for productivity and growth.
Guyana
Guyana has called for a transitional government in Haiti as the French-speaking Caribbean Community country grapples with a political and socioeconomic situation that has led to increased gang warfare and the collapse of many of the democratic institutions.
Haiti has been thrown into turmoil since the July 7, 2021, assassination of President Jovenel Moise, with the interim government of Prime Minister Dr. Ariel Henry urging the international community to send in a multi-national force to maintain peace and security in the country.
Ali said three issues are most pervasive in the Haitian situation: security, humanitarian aid and political stability.
Only with a representative transition government in place "can Haiti credibly approach the United Nations Security Council for supporting re-establishing law and order and it's democratic institutions," he added.
Ali said that Haitians urgently need health care, sustenance, water and above all the normalcy in their daily lives.
"The Haitian people need it, and they deserve it," Ali said.
Jamaica
Moving to dispel rumours that the country is being overtaken by Chinese interests, Prime Minister Andrew Holness says Jamaica's debt to China is miniscule in comparison to what the country owes other nations and international agencies.
"I want to take this opportunity to dispel the quite unfortunate perception that is carried by some with interest that somehow Jamaica is being overrun by Chinese interest. "It may shock you to know that even with this loan from China, Jamaica's debt to China is approximately 4.5 per cent of our total debt," he said on Thursday while addressing the opening ceremony of the May Pen to Williamsfield leg of Highway 2000.
He said Jamaica lacks enough skilled-workers and engineers. He said 603 of the 754 workers who were employed on the highway project are Jamaicans.
Holness also reiterated the need for there to be focus on positivity and growth happening in the country.
Trinidad and Tobago
Days after Trinidad and Tobago's President Christine Kangaloo called for unity amongst parliamentarians to deal with crime, Prime Minister Dr. Keith Rowley has signaled that he will make the first move to initiate such discussions with the Opposition.
Dr. Rowley said he plans to write to Opposition Leader Kamla Persad-Bissessar to invite her to sessions to present her plans to tackle the country's high crime rate. In her maiden speech to both houses during the Ceremonial Opening of the Fourth sitting of the 12th Session of the Parliament on recently, President Kangaloo urged the parliamentarians to put aside partisan politics to resolve the crime woes afflicting the country. "The urgency is obvious. The pain and the suffering are unbearable. These alone should drive parliamentarians to put aside their party rivalries, join hands across the aisle, and collaborate on how to stem crime and criminal conduct," Kangaloo said.
Following Kangaloo's speech, Persad-Bissessar had said the United National Congress was ready and willing to cooperate with the government.
— Compiled by Devika Ragoonanan