World
Caribbean national selected as Harris chief-of-staff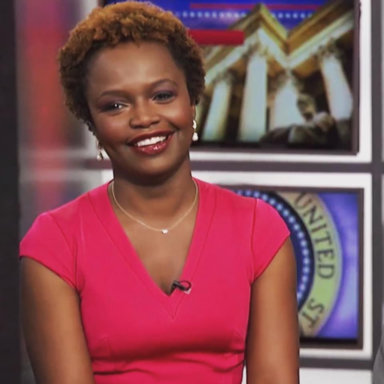 Just before United States Sen. Kamala Harris made history by becoming the first Caribbean American and Asian American woman to be nominated as a US vice presidential candidate, a Caribbean-born woman also created history.
Karine Jean-Pierre, 43, who was born in Martinique to Haitian nationals, was selected as Harris' chief-of-staff, becoming the first Black person to serve in that role for a US vice presidential candidate.
"Karine 'ambitious' Jean-Pierre is incredibly proud to be working to elect the Biden/Harris ticket," tweeted Jean-Pierre Tuesday shortly after former US Vice President Joe Biden selected Harris, the daughter of a Jamaican father and Indian mother, as his running mate. "Let's go!!"
Jean-Pierre, who was raised in Queens, New York, serves as a senior advisor to the Joe Biden 2020 presidential campaign.
Jean-Pierre's professional experience has ranged broadly from presidential campaigns to grassroots activism, to local politics, to working in the White House.
Jean-Pierre, who is the Chief Public Affairs Officer for MoveOn.org and an NBC and MSNBC political analyst, previously served as the deputy campaign manager for Martin O'Malley for President.
Prior to joining the O'Malley Campaign, Jean-Pierre said on her website that, in 2014, she was the campaign manager for American Civil Liberty Union's (ACLU) Reproductive Freedom Initiate (RFI).
Previously, she managed New York Attorney General Letitia James's successful campaign for New York City Public Advocate.
In 2011, Jean-Pierre said she served as Deputy Battleground States Director for former US President Barack Obama's 2012 re-election campaign, "managing the president's political engagement in key states while leading the delegate selection and ballot access process."
Before joining the re-election campaign, Jean-Pierre served as the Regional Political Director for the White House Office of Political Affairs.
Prior to joining the Obama administration, she said she worked on the Obama for America campaign in 2008 as the Southeast Regional Political Director, and served the John Edwards for President Campaign in the same capacity.
Jean-Pierre said her interests demonstrate her "concern for integrity and the human condition."
In graduate school, she said she explored her Haitian roots through documentary film.
Later, she worked at the Center for Community and Corporate Ethics and pushed major companies like Wal-Mart to change their business practices.
While working in New York, Jean-Pierre said she served as press secretary for former US Congressmen Anthony Weiner, and as Deputy Chief of Staff and Director of Legislative and Budget Affairs for two City Council Members, respectively, in the New York City Council.
Jean-Pierre said she joined the Columbia University faculty in 2014, where she teaches a course at the School of International and Public Affairs (SIPA). She received her Master in Public Administration (MPA) from Columbia University's SIPA in 2003.
"My parents, Haitian immigrants, it's like the immigrant experience," Jean-Pierre told the Public Broadcasting Service (PBS) in 2019. "They came here for the American dream that, in many ways, eluded them.
"They still live check-to-check," she added. "But, in their eyes, because I made it to the White House, because their daughter went to Columbia, they have received it."
While congratulating Harris as the first Caribbean American to be selected as a US Vice Presidential nominee, New York City Democratic Council Member Farah N. Louis, the daughter of Haitian immigrants, also recognized Jean-Pierre.
"Women have been at the forefront of every civil and human rights movement; and now, we stand ready to take our seat at the table in the White House," Louis, who represents the predominantly Caribbean 45th Council District in Brooklyn, told Caribbean Life.
"As our nation slowly recovers from COVID-19, it is imperative that we help amplify the voices of the vulnerable populations hardest hit – Black and brown people, as well as the countless women who have been on the frontlines as healthcare and essential workers, as well as our small business owners," added the co-chair of New York City Council's Women's Caucus.
"Now is the time to prioritize the issues that matter most to women, including but not limited to protecting and supporting survivors of gender-based violence, through the Violence Against Women Act (VAWA), pay equity, poverty, homelessness, maternal health and police brutality," Louis continued.
"Nearly 50 years ago, the Hon. Shirley Chisholm of Brooklyn became the first woman to run for the Democratic Party's presidential nomination," she said. "Today, we must work tirelessly to finish what she started and unite, rather than divide, our diverse nation through inclusive legislative policies that strengthen our local communities and economies."
In 1972, the late US Congresswoman Shirley Anita Chisholm, née St. Hill, the daughter of a Barbadian mother and a Guyanese father, became the first Caribbean American candidate to seek nomination from a major US political party for President of the United States.
Chisholm, who was born on Nov. 30, 1924 and died on Jan. 1, 2005, in 1968, became the first Black woman to be elected to the United States Congress.
The fiery legislator had represented New York's then 12th congressional district, in Brooklyn, for seven, two-year terms from 1969 to 1983.
When Biden selected Harris, 55, as his running mate on Tuesday, she became the first Black woman and the first person of Indian heritage to be nominated for national office by a major US party.
She is also only the fourth woman in American history to be selected for a presidential ticket.
In 2017, Harris was sworn in as a US Senator for California, the second African-American woman and first South Asian-American senator in history.
The former California attorney general serves on the US Senate's Homeland Security and Governmental Affairs Committee, the Select Committee on Intelligence, the Committee on the Judiciary and the Committee on the Budget.
The post Caribbean national selected as Harris chief-of-staff appeared first on Caribbean Life News.