Sports
CANADA TOPS PUERTO RICO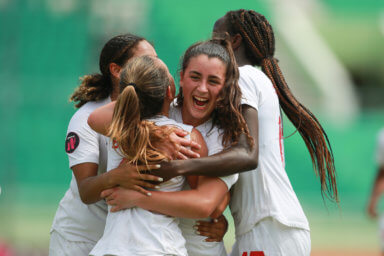 A first half spurt of two goals in two minutes lifted Canada to a 2-0 victory over Puerto Rico in the Third Place Match at the 2022 CONCACAF Women's Under-20 Championship on Saturday at the Estadio Olimpico Felix Sanchez in Santo Domingo, according to CONCACAF.
It said the win earned Canada the third and final berth for the 2022 FIFA Women's Under-20 World Cup in Costa Rica.
CONCACAF said Zoe Burns and Florianne Jourde got the goals for Canada, stating that "it took a special strike to beat Puerto Rico GK Jlo Varada Vazquez, who was sensational from start to finish, making a number of top saves and stopping a second half penalty."
"However, there was nothing Vazquez could do to prevent Canada's opener in the 38' when Burns converted from the penalty spot to make it 1-0," CONCACAF said.
Less than a minute later, it said the lead was doubled, 2-0, "as Jourde got on the end of a cross and volleyed a left-footed shot in past Vazquez for the goal."
CONCACAF said Puerto Rico looked to swing the momentum in their favor "with a strong start to the second half," but added that a penalty earned by Canada right before the hour mark "had the North Americans poised to extend their lead.
"But Varada Vazquez would have the last word, diving to her right to save Olivia Smith's spot kick, keeping it a two-goal game," CONCACAF said.
"Puerto Rico began to commit numbers forward in hopes of pulling a goal back, but the Canadian defense held firm and saw things out to secure the clean sheet victor," it added.