News
Brooklyn's Lucina Clarke receives NYS Senate Woman of Distinction Award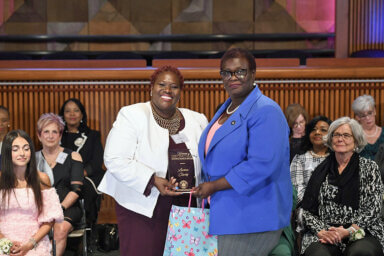 Brooklyn's State Sen. Roxanne J. Persaud on Tuesday presented the 2023 New York State Senate Woman of Distinction Award to Lucina Clarke, co-founder of the Canarsie, Brooklyn-based My Time Inc.
My Time Inc. is a support center for parents and caregivers of children with autism and developmental disabilities.
Clarke is also executive director of My Time Inc., which she co-founded with her husband of 35 years, Wayne Clarke.
Ms. Clarke traveled to Albany to receive the award at a ceremony hosted by Senate Majority Leader Andrea Stewart-Cousins.
During the annual affair, senators from across New York State honor women who have offered selfless leadership in their communities.
Persaud, the Guyanese-born representative for the 19th Senate District in Brooklyn, said she was "proud" to present the award to Clarke, who is also described as a self-care-expert, international speaker and author of the D.I.V.A.S. Discovery Journal.
"Lucina believes her purpose in life is to serve with compassion, love and understanding," Persaud said. "For her, a society of advocates is created by educating and empowering families thus strengthening their bonds.
"Lucina wants to instill upon those she assists that they are not alone, and they are valued," she added. "My Time Inc. does this work through parental educational training, engaged parent support circles, and development of skills for children in recreation, play, social – and both increase and enhance parental relationship with children."
Persaud said she is dedicated to raising awareness on this issue, stating that organizations like My Time Inc. focus on "the inner strength of youth and their families that have an excellent bond.
"By bringing together families, My Time Inc., hopes to bring out the best in their kids with autism, and I am committed to future collaboration with the great families who make up this organization," she said.
Clarke said she was "thrilled with the incredible response we have received to our philosophy here at My Time Inc.
"Parent support is not a new phenomenon, but My Time Inc is bringing a new dynamic and perspective to it," she said.
Persaud said autism is "a widespread condition" that impacts millions in the United States, noting that 2.3 percent of the population has autism.
She pointed to statistics from the Atlanta-based Centers for Disease Control and Prevention (CDC) that state that 342,280 New Yorkers are on the spectrum.
"This makes raising autism awareness and acceptance even more important than ever to the future prosperity of everyone," Persaud said.