News
Brooklyn Outreach Lions seek members to make difference in the community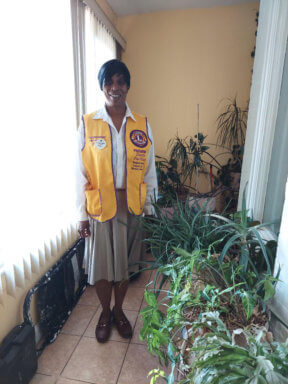 As it celebrates its 10th anniversary, the Brooklyn Outreach Lions Club is seeking civic-minded men and women to join the club "in making a difference in our communities."
"The Lions motto is 'We Serve', and the Brooklyn Outreach Lions Club has been living up to it for 10 years," said the club's Vincentian-born chair and co-founder, Yolande Diane Chewett Hall, in a Caribbean Life interview. "The club has been doing different kinds of community service projects, including caring for seniors and the disabled, feeding the hungry, collecting used eye glasses, caring for the environment, and many more.
"In light of the COVID-19 pandemic, it is more important than ever that we do whatever is necessary to help our local communities," added Chewett Hall, stating that Brooklyn Outreach Lions Club was chartered on Sept. 30, 2010 under District Gov. Pauline Francis.
"Becoming a Lions club member gives you the opportunity to volunteer locally, make new friends and get involved in projects that will make our community a better place to live," she continued. "It also gives you the opportunity to travel worldwide, when allowed."
Chewett Hall said that the Association of Lions Clubs is "a great service organization," which was founded in Chicago by businessman Melvin Jones on June 7, 1917.
"As time went by and clubs were formed around the world, the organization's name was changed to Lions Clubs International in 1920," said Chewitt Hall, stating that, currently, the umbrella organization has 1.4 million members, in 209 countries, with over 47,000 clubs, "of which Brooklyn Outreach Lions Club is one."
"We are the largest non-political service organization in the world," she boasts.
Chewett Hall, who migrated from St. Vincent and the Grenadines in 1986, said that, after several years of school and many jobs, she felt the desire to give back to the community.
"Consumed with this thought, I followed a friend to a meeting, which marked the beginning of my service in Lionism," she said. "I joined what was called the Brooklyn Rising Stars Lions Club and diligently provided services to the less fortunate for nine years.
"At this point, I gathered together 27 of my friends and formed the Brooklyn Outreach Lions Club in 2010," Chewitt Hall added.
She said she has held several positions in the club, including president, treasurer, membership chairperson and lion tamer.
In addition, Chewitt Hall said she has served as chairperson of the Thanksgiving and Christmas Baskets committees, and participated in breast cancer and other walks.
At the district level, Chewitt Hall said she has served as Zone and Region chairperson.
In recognition of her services to the community, she said she has received numerous awards, including the Melvin Jones Award (the highest award), and Bachelors and Masters Awards in Lionism.
Besides Lionism activities, Chewitt Hall, who is employed in the Traffic Department with the New York City Police Department (NYPD, said she volunteers at the Veterans of Foreign Wars – Post 5298 – in Springfield Gardens, Queens, giving out non-perishable food to the community.
She also serves as an usher at the Church of the Nativity, at the corner of Farragut Road and Ocean Avenue, in Brooklyn.
To get involved in Lionism and to learn more about Brooklyn Outreach Lions Club and its service projects, call Chewitt Hall at (917) 345-0156.
The post Brooklyn Outreach Lions seek members to make difference in the community appeared first on Caribbean Life News.