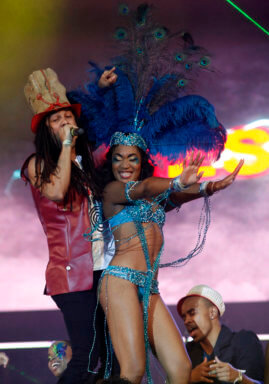 Kes the Band, otherwise known as KTB, continues to take soca music globally as, this Friday, it performs in the first ever virtual Brass Fest, organized by the Brooklyn-based West Indian American Day Carnival Association (WIADCA).
According to 2BKaribbean, the band has been the "understated heavy weight brand ambassadors for soca music for a very long time.
"The team often makes a big splash on stage both at home and abroad using their formula of bringing high energy performances, strong instrumentals and an extensive discography," it said. "They do all this while interweaving different musical genres into their set.
"It's a formula that definitely works and completely engages the audience no matter where in the world they are performing," 2BKaribbean added. "And therein lies their secret and one of their key differentiators in a landscape where it's very difficult to stand out."
It said KTB has been able to successfully distinguish itself by even generating demand for soca shows outside of the Carnival season.
"Most soca artistes scramble to grab a coveted spot on the Carnival show circuit every year, and KTB is no exception," 2BKaribbean said. "Most artistes and performers know that acceptance and validation from the Carnival audience bring with it a certain security on bookings for the year.
"But, even within that context, they have managed to broaden their vision to include non-seasonal performances, as is evidenced by their recent Thanksgiving show in Atlanta, GA," it added. "It is a good space to be in as the movement to 'take soca global' continues to build momentum.
"And although they are not the first band to do this, and will definitely not be the last-they have made major strides in owning a space not regularly frequented by soca music," it continued.
In 2011, KTB's "Wotless" was nominated for a BET Soul Train Music Award in the category of Best Caribbean Performance, according to 2BKaribbean.
It said it was also the year that KTB worked with Jamaican songstress, Tessane Chin, on "Loving You."
Beyond embracing an inter-island connection, 2BKaribbean said this collaboration took on even more significance when Chin went on to gain international acclaim by snatching the title of "Season Five Winner" of the show, "The Voice".
In 2012, KTB collaborated with internationally-acclaimed rapper, Snoop Dogg, on "Stress Away," according to 2BKaribbean.
That same year, it said the band performed at the Play Station Theater in Times Square in New York City.
In 2013, KTB also performed and sold out at the historic BB Kings in New York as well.
"These are but a few of the flags that the band has planted on the road to taking soca global," said 2BKaribbean, adding: "And they are meaningful ones."
The post BRASS ONLINE appeared first on Caribbean Life News.