News
Bold & Boss Boutique provides free Mother's Day pop-up shopping for young mothers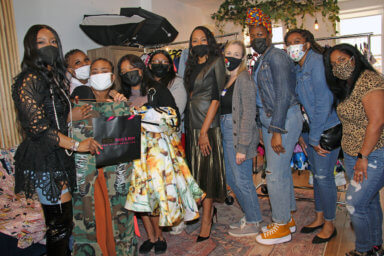 Queens native and Elmont, Long Is. resident Jamie Ralliford, also known as Celebrity DJ Ms. Chu, on Saturday hosted an inaugural free Mother's Day pop-up shopping experience for more than 20 young mothers and at-risk youth at 210 Hoyt St., downtown Brooklyn.
Ralliford, whose husband is Jamaican Andre Ralliford, is chief executive officer of Bold & Boss Boutique, which sponsored the event, dubbed "Makeovers & Mac: A Mother's Day Pop-Up Shopping Experience Benefitting Young Mothers."
The event — which featured shopping, make-up tutorials, giveaways, among other things — was held in partnership with YoungLivesNYC, and co-sponsored by Tiffany Garlick of Dame Cosmo, Foundation Beauty and Emily Burnett of Burnett New York.
"I created the event to help young women realize that, even through adversity, there is light at the end of the tunnel," Ralliford told Caribbean Life. "And, with vision and proper execution, they, too, can fulfill their goals."
The entrepreneur, financial services professional, international DJ, influencer and transformational leader said the teen and young mothers were the recipients of new clothing, make-up and gifts from the sponsors, and that they were given the opportunity to shop new, unworn inventory from the Bold & Boss Boutique for free.
Ralliford said they also received personalized make-up instruction and phenomenal make-up product gift bags.
"The mothers were excited to shop but also grateful for the opportunity to relax and to be celebrated for the amazing work they do as mothers," she said. "I had an amazing time at the event.
"I am grateful to Young Lives NYC for sharing their platform and allowing me the opportunity to positively impact young lives," Ralliford added. "It is my goal to continue to positively share wisdom and resources.
"Teen and young mothers were left with my take away quote of the day: 'Starve your distractions and feed your focus,'" she continued.
Ralliford said Bold & Boss Boutique specializes in curated style and luxury hair extensions for the fashion forward diva on the go.
The boutique business suffered a severe loss during the pandemic when Ralliford was forced to close her brick-and-mortar store in Rockville Centre, Long Is.
Running two businesses, Ralliford said she has spun major events, such as the US Open, as well as corporate events, such as big brand store grand openings and product launches.
"I am an open format DJ, and I pride myself on bringing people together through music," she said. "I am also the CEO (chief executive officer) of Bold & Boss Boutique, where I have the opportunity to help women look and feel their best."
For more information about Bold & Boss Boutique, go to www.boldandboss.com, or call (856) 347-7599.