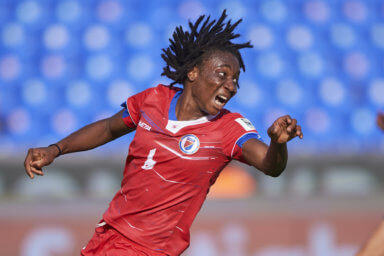 Haiti Women's National Team star Melchie Dumornay made headlines last week by joining French giants Olympique Lyon, where she will join fellow CONCACAF players Catarina Macario (USA), Lindsay Horan (USA) and Vanessa Gilles (Canada) on the squad of the Division 1 Feminine side.
CONCACAF said on Thursday that becoming part of the reigning and eight-time UEFA Women's Champions League winners is "a big step forward" for the 19-year-old attacker, who previously played in France's top flight with Reims.
It also comes at just the right time for Haiti, who next month will travel to New Zealand for the Inter-Confederation Playoffs to try to secure a spot in the 2023 FIFA Women's World Cup in Australia/New Zealand, CONCACAF said.
"Dumornay should be unfazed by the bright lights of playing for one of Europe's top teams in women's football (soccer)," CONCACAF said. "She has already proved herself many times over on the international stage both at the youth national team and senior team level in CONCACAF."
At the young age of 14, it said Dumornay took home the Golden Ball as the Best Player at the 2018 CONCACAF Women's Under-17 Championship when she scored five goals in five games.
Dumornay was also part of the Haiti team at the 2018 CONCACAF Women's Under-20 Championship, where she scored a goal in five games to help Haiti to qualify for the 2018 FIFA Women's Under-20 World Cup, the first time that a Haitian Women's National Team qualified for a World Cup at any level, CONCACAF said.
Two years later, after scoring a goal and adding an assist in Haiti's three matches at the 2020 CONCACAF Women's Olympic Qualifying Championship, it said Dumornay had "a tournament for the ages" at the 2020 CWU20 in the Dominican Republic, when she took home Golden Boot honors with "an astounding" 14 goals scored, giving her 15 career CWU20 goals.
"There were many great goals that the then 16-year-old scored, but her first goal in what turned out to be a hat-trick in Haiti's 3-0 quarterfinal win over Guyana was, indeed, a special strike, as she uncorked a blazing right-footed shot that went searing into the top right corner of net," CONCACAF said.
Following the suspension of play due to the COVID-19 pandemic, it said a return to action last summer in the 2022 CONCACAF W Championship saw Dumornay take center stage again for Haiti.
"Just 18 years old at the time, Dumornay was a headache for opposing defenses during Haiti's campaign, with five steals and two clearances, while completing almost 82 percent of her passes," CONCACAF said. " Dumornay's playmaking led to a penalty in Haiti's opener versus the United States and then she completed the tournament by twice hitting the post against Jamaica."
For her efforts in leading Haiti to a third-place finish in their group and a spot in the 2023 Women's World Cup Inter-Confederation Playoffs, Dumornay earned the Scotiabank Young Player Award, CONCACAF said.
"Dumornay has already proven what she is capable of in CONCACAF competition," it said. "And now that she will be able to reach a new level at Lyon, the stars are aligning for her to have another star-studded display for Haiti and try to lead her nation to a first ever Senior Women's World Cup berth."