World
Barbados on positive breast cancer path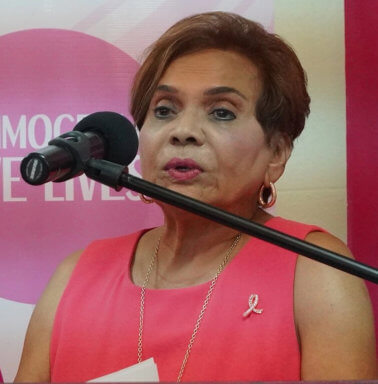 As Barbados joins with the world in observing Breast Cancer Awareness Month, it is celebrating the fact that not only has the number of deaths from this disease been stabilized but also that mortality number is low for more than 10 years.
The over a decade old consistent low breast cancer death rate does not mean there is a reduction of persons diagnosed, in fact it is the opposite as one volunteer non-governmental organization, Barbados Cancer Society, is seeing an increase in patients to the extent that a new infected one is discovered every week — but they are not dying.
"Even though we're finding so many cases the survival rate has remained stable. That explains why the [mortality] rate remains between nine and 11 percent," said gynecologist and Medical Coordinator of the Barbados Cancer Society's Breast Screening Program Dr. Shirley Hanuman-Jhagroo as she pointed out that this death rate has stabilized for more than a decade because patients are being diagnosed early.
"And that's owed to awareness. That is why there is so much emphasis on the side of the awareness."
"The earlier the diagnosis is made the patient's survival rate increases. If you're diagnosed with Stage Zero or Stage One, your prognosis is almost 99 per cent survival compared with somebody who is diagnosed with Stage Four, that person's prognosis is 15 to 20 per cent. This is why early diagnosis makes the difference," she explained.
Dr Hanuman-Jhagroo said that over the past 10 years her clinic has been diagnosing persons by an overwhelming majority have Stage Zero and Stage One breast cancer because women on the island have been frequently coming forward for screening and to be taught the proper method of self-examination.
But it had not been this way prior to 2002 when this clinic began its first screening and some years after.
"Before this program was started in 2002 Stage Four people hid. If they had anything in their breast, for them it is a stigma and there is no life after breast cancer. They looked at it as a death sentence and they knew there was no point telling anybody 'let me just die with this thing'," Dr Hanuman-Jhagroo said.
Many others who hid and shunned public life were unaware of what stage their cancer had progressed to but had given up on life nonetheless.
Opening of the clinic was paired with public advocacy impressing on women the life-saving importance of frequent screening and that breast cancer should carry no stigma.
"The options for treatment that the patient will respond to is important. When you get to Stage Four, what are the options, very little because it's already spread somewhere, metastasis.
"Once it's metastasized it's difficult to control the cancer. The whole objective of screening is to diagnose the breast cancer as early as possible."
She said that when screened, at a Stage Zero or Stage One nothing is palpable or can be felt by hand. At this stage the clinic subjects patients to mammogram examination that shows up a tiny cluster of cancerous cells.
"What we look for in the mammograms is very specific," she said, adding, "mammograms have remained the gold standard. We look for what is called microcalcification which is always diagnostic of cancer. Then having found that we go after it, do the biopsy. Then those patients probably can have a little excision of the area.
"And they do very well maybe as a 20-year survivor.
"A lot depends on the stage at diagnosis."
"With early detection lives are being saved. That's the emphasis of this whole thing to save the lives. We still can't prevent the disease because we don't know the cause.
"Barbados is a matriarchal society. Women just seem to take over all the duties they have to take over. We have to keep them healthy," she said.
The post Barbados on positive breast cancer path appeared first on Caribbean Life News.