News
Asher-Smith blazes in Init Indoor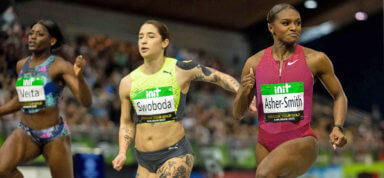 After a rollercoaster of a 2022 season, Dina Asher-Smith is relieved to have had a straight-forward off-season — the result of which came to fruition at the Init Indoor Meeting Karlsruhe where she equaled the long-standing meeting record with her 60m victory at the World Athletics Indoor Tour Gold meeting on Friday, according to World Athletics.
"Her joy was palpable as she returned to the German city where she had often raced before," World Athletics said. "She ran a controlled heat, winning in a PB of 7.07 to finish comfortably ahead of world indoor champion Mujinga Kambundji."
Poland's 2019 European indoor champion Ewa Swoboda had won the other heat in a convincing 7.09, though African 100m record-holder Marie-Josee Ta Lou picked up an injury during that race and didn't progress to the final, World Athletics said.
Drawn in adjacent lanes in the final, World Athletics said Asher-Smith matched Swoboda's trademark rocket start, but then began to pull away as the Pole tightened up and faded slightly at the finish.
"The Briton powered through the finish line in 7.04, not only equaling the meeting record set 27 years ago by Irina Privalova, but also taking 0.02 off the British record, moving into the European all-time top 10 in the process," World Athletics said.
"I always love racing here, and I'm so happy to come away with a PB and national record," said the 2019 world 200m champion, who said at the pre-event press conference that she most likely won't compete at the European Indoor Championships in March.
"I've had a really good winter, so I've been really excited to get back out here," she added. "The crowd helped me, 100 percent. The last time I was here it was in the middle of COVID and there was no crowd, so thank you to Germany for making this an incredible meet."
World Athletics said Swoboda finished second in the final, matching her 7.09 from the heats. Kambundji was third in 7.11 and Britain's Daryll Neita was fourth (7.16).