Music
Appeal for funds to aid ailing Vincy singer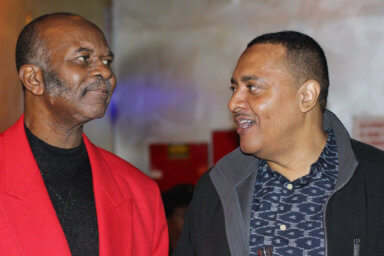 An informal Brooklyn-based group calling itself the "Friends of Winston Soso" is appealing for community support for the popular Vincentian calypsonian, dubbed the "The Rolls Royce of Calypso," who recently suffered a minor stroke and is on dialysis treatment.
"As you may be aware, Winston has to do dialysis three times weekly and has recently had a minor stroke," said the all-Vincentian "Friends" — Allan Doyle, owner of San Souci Studio in Brooklyn; Adrian Bailey, a renowned Vincentian musician; and Laverne Munroe, a retired registered nurse — in a Facebook post.
"Consequently, he is unable to work and support himself," they added about the Vincentian cultural ambassador. "He has brought us so much great music over the last four decades, it is only right that we, in turn, give back to him our financial support in his time of need."
"The Friends" said that their appeal was officially launched on Sunday, July 5, at 8:00 pm on a daily Vlog, owned and hosted by Doyle.
But they noted that the Gofundme account was already active.
"So, feel free to begin your support," the "Friends" appealed. "All funds raised by the Gofundme benefit will be transferred to Winston as the only beneficiary."
The "Friends" said that the goal is to raise US$50,000 for Soso.
In a separate post, Bailey said Soso recently suffered from kidney failure and that funds raised will "significantly assist him in meeting his day-to-day living expenses and general health needs."
Yvette Hackett, who donated US$300, said she was "so sorry to hear about Mr. Winston Soso.
"He has contributed so much to us, the people of St. Vincent and the Grenadines, and has participated for over a decade with pure talent, love and pride to Vincy Mas and for his performance all over the world," she said.
"So, with great pleasure, I have to make a donation to the Gofundme page," Hackett added. "I pray that the Almighty God will touch him from the crown of his head to the soul of his feet, and he will be healed from all ailments."
In donating US$100, Kenny Sylvester said Soso is "a national icon, who deserves all the help he can get."
Sherrill-Ann Mason-Haywood, chair of the Brooklyn-based St. Vincent and the Grenadines Diaspora Committee of New York, Inc., said: "We are our brother's keeper.
"Calling the village to support this worthy cause," she urged. "Winston Soso has been a major Vincentian cultural icon and ambassador. Let's support him in his time of need."
Stanley "Luxie" Morris, a former St. Vincent and the Grenadines national football (soccer) captain, who played with Soso in the national team from 1973-76, said Soso, the national goalkeeper, was his roommate in Grenada, in 1974, during the Windward Islands Football Tournament.
"My heart is broken," the St. Vincent and the Grenadines Sports Ambassador told Caribbean Life on Monday. "I'm really hurt, broken."
The post Appeal for funds to aid ailing Vincy singer appeared first on Caribbean Life News.