News
Afesha Wilkins exhibits 'Awakening' at Osmosis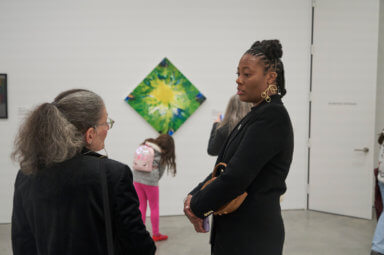 No one studies Monet's Water Lilies or Warhol's Soup Cans more than those tasked with watching over them day in and day out: museum security guards.
It might surprise gallery visitors, but many guards in art museums are actually artists themselves — opting for steady work where they can be surrounded by inspiration.
From Nov. 10-13, guards from five of New York City's most acclaimed art institutions — including The Metropolitan Museum of Art and The Brooklyn Museum—came together for a first-of-its-kind exhibition featuring their own art.
Concepted by a New York creative collective Gentle Cowboys, the exhibition featured 15 security guards who are also painters, photographers, sculptors and multimedia artists.
The artists were given complete flexibility in the creation they wanted to exhibit, as long as—in the true spirit of osmosis—it connected back to the art they guard.
The gallery and film's title, "Osmosis", represents the link between artist and guard.
It speaks to the time guards spend absorbing the art in their museums, and how that has in turn helped shape their own works as artists.
A documentary short film featuring the show's artists (https://vimeo.com/768107556) also explores the duality between artist and guard.
Vincentian American artist Afesha Wilkins exhibited "Awakening" at Osmosis.
"While admiring 'CICLOS,' a collection by the artist José Parlá on display in the Brooklyn Museum, I was struck by his explosive use of colors," she told Caribbean Life. "The way they burst across the canvas made me think of the theory of the
Big Bang, and what it might have been like at the center of creation."
Wilkins said the color yellow is the focal point of "Awakening."
"It's a color that signifies our giant star—the sun— reaching out and creating," she said. "Out of darkness, light gives life to a universe filled with beauty."