News
Adams signs legislation guaranteeing access to safe, affordable abortion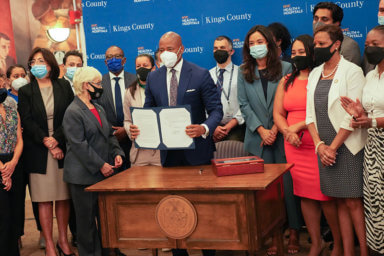 New York City Mayor, Eric Adams on Friday signed historic legislation to protect access to safe and affordable abortions in New York City.
Coming on the heels of the US Supreme Court's decision in Dobbs v. Jackson Women's Health Organization that effectively overturned Roe v. Wade, Adams said these six bills will strengthen abortion protections, make medication abortion free at all New York City Department of Health and Mental Hygiene (DOHMH) clinics, and improve public health education so every New Yorker and person visiting New York City for reproductive health care knows their rights and their options for receiving care.
"The passage and signing of these bills underscore the city's commitment to protecting the bodily autonomy of women in New York and outsiders seeking reproductive asylum here in the city," Adams said. "The Dobbs decision was about nothing more than controlling people's bodies, their choices, and their freedoms, but we are not going to leave our sisters or others behind.
"Abortion is health care, and, with the signing of these six bills into law, the nation will know that New York City will always defend the right for all people to access an abortion," he added. "Safe, legal abortion care is the cornerstone of public health in our city, and our goals are and will remain to ensure that young women will not come of age with fewer rights than their parents.
"Reproductive freedom and abortions will always be protected in New York City no matter what any activist court with a clear political agenda rules," the mayor continued. "I, and those here in New York City and across the country, are grateful to the City Council for passing these bills and getting this important work done."
"In New York City, we stand in defense of abortion and reproductive rights," said Deputy Mayor for Health and Human Services Anne Williams-Isom. "These are critical services that must remain accessible and available to every person that needs them. Abortion is health care and a lack of access to reproductive health care is a public health issue."
"Abortion is health care, and health care is a human right," said DOHMH Commissioner Dr. Ashwin Vasan. "With these bills, New York City will again play a historic role as a national leader for abortion services and reproductive justice. I thank the Council for taking action to protect and expand access to safe abortions."
"Reproductive health care is a fundamental right, and these bills will ensure that our patients are protected under the law, no matter what path they choose," said Dr. Machelle Allen, senior vice president and chief medical officer, NYC Health + Hospitals. "NYC Health + Hospitals provides abortion care, both medical and procedural, and we are committed to providing a safe and supportive environment. I want to thank Mayor Adams and the speaker for their unwavering support to our providers, patients, and their families."
With the implementation of these bills, Adams said New York City is strengthening abortion protections, expanding access to safe abortion, and raising public awareness about women's rights and the options for those seeking abortions in New York.
Int. 465-A requires DOHMH to annually report the number of births and abortions provided in the city each year both for individuals who were residents of New York City at the time of such birth or abortion and for those who were not residents.
DOHMH will also be required to assess the ability of licensed medical providers in the city to provide reproductive health care, identify any challenges faced by licensed medical providers to provide reproductive health care, and make recommendations for increasing the capacity of such providers to provide reproductive health care.
Int. 466-A prohibits city agencies from using city resources — including, but not limited to, time spent by employees and the use of city property — to detain persons for performing or aiding with abortions or to cooperate with out-of-state entities related to abortions performed in New York state.
Int. 474-A requires the city to conduct a public education program to inform the public about the protections available to people and providers accessing reproductive health care facilities.
It also requires the city provide information about the protections available in the city Human Rights Law (HRL) related to reproductive health decisions and stopping discriminatory harassment.
The public education program will also provide information about a person's right to bring a civil action for violating the HRL or accessing the reproductive health care facilities law, as well as how to access resources to find comprehensive reproductive health care and privacy protections for people accessing reproductive health care.
Int. 475-A creates a private right of action for interference with reproductive or endocrine medical care.
Int. 506-A requires the New York City Department of Consumer and Worker Protection to implement an outreach and education campaign on facilities that deceptively advertise or are otherwise misleading when offering reproductive health services.
Int. 507-A requires DOHMH to provide access to U.S. Food and Drug Administration-approved medicine for medication abortions, at no cost to patients, at health clinics operated by DOHMH. DOHMH would provide such medication to patients who seek to terminate their pregnancy, when the use of such medication is indicated and in accordance with the medically reasonable and good faith professional judgment of such patients' medical providers.
DOHMH would also provide counseling and timely referrals to other health facilities and qualified family planning providers, if needed, for other services.
"The NYC Abortion Rights Act is a monumental legislative package that sends a clear message that New York City is a safe haven for abortion and reproductive care," said New York City Council Speaker Adrienne Adams. "These critical bills, championed by the first women-majority Council in our city's history, will support and protect both New Yorkers and people coming to our city to seek the care they need.
"As states across the country restrict access to safe and affordable abortion care, our city is demonstrating national leadership and setting the example for others to follow," she added.
"At a time in which access to abortion care in our country has been stripped away by the Supreme Court, it is important now more than ever to ensure women and birthing individuals are fully aware of the reproductive services that are available to them," said Bronx Borough President Vanessa Gibson. "Crisis Pregnancy Centers are deceptive and can cause detrimental harm to the well-being of a person seeking abortion services in our city, and it is important we take immediate action to address the issue.
"I want to applaud Mayor Adams for signing into law Intro 506-A and Speaker Adrienne Adams, Councilmember Carlina Rivera, the Women's Caucus, and members of the New York City Council for their work to increase transparency around so-called Crisis Pregnancy Centers in our city and ensure that birthing individuals receive culturally competent and affirming reproductive care," she added.
"As the Supreme Court and the right wing nationwide look to eviscerate abortion rights, it's never been more important to support and expand equitable access to abortion care here in New York City — for both residents of the five boroughs and those from beyond our borders. This critical package of bills does just that," said Queens Borough President Donovan Richards, Jr., who traces his roots to Jamaica.
"Here in Queens, we will always unequivocally and unapologetically stand up for the fundamental human right to an abortion, and I commend our partners in government and advocacy alike for taking immediate action to protect that right," he added.
"A woman's right to choose is a fundamental freedom. For centuries in America, women did not have control over their bodies," said Haitian-born New York City Councilmember Rita Joseph. "Now, reactionary forces are trying to bring us back to the dark days of desperate women getting dangerous, illegal abortions in back alleys.
"My colleagues and I refused to allow that to happen, which is why, today, the city is protecting a woman's right to choose," added the representative for the 40th Council District in Brooklyn. "I thank my colleagues in the Women's Caucus, Speaker Adams, the bills' sponsors, the mayor, and the incredible coalition of allies that made passing these bills possible."