News
Adams, Louis pay tribute to NYC former First Lady Joyce B. Dinkins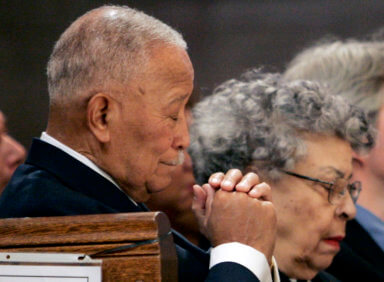 Brooklyn Borough President Eric Adams and Council Member Farah N. Louis have joined other elected officials in paying tribute to New York City's former First Lady Joyce B. Dinkins, who died on Sunday at her home in Manhattan. She was 89.
Mrs. Dinkins was the wife of David N. Dinkins, the city's first Black mayor, who served only one term, from 1990 to 1994, before he was defeated by Rudolph Giuliani.
"My heart is truly heavy over the passing of Joyce Dinkins, a remarkable woman who saw the best in every one of us," said Adams on Monday. "I felt a special bond with our late First Lady, a mother-son relationship that filled my life with love and strength.
"I know that so many New Yorkers join me in paying tribute to this champion of our children and proud partner to our former mayor to whom we offer our deepest condolences," he continued. "May she rest in power, and may her memory be a blessing to all who knew and loved her."
Louis, the daughter of Haitian immigrants, who represents the 45th Council District in Brooklyn, said on Tuesday that the city mourns the loss of "a giant."
"From Harlem to the Gracie Mansion, First Lady Dinkins' lifetime of public service was remarkable," said Louis, co-chair of the Women's Caucus in the City Council. "She was a dynamic woman who championed education, literacy, expanded access to healthcare and the arts."
During her tenure, Louis noted that Mrs. Dinkins served as an honorary chair of the Mayor's Task Force on Child Abuse and the chairperson of "The First Day Back to School Initiative," which was dedicated to providing New York City children with the resources that they need to excel in their academic studies.
"Her wise counsel, leadership and compassion are all of the qualities that helped define the Dinkins administration," the councilwoman said. "First Lady Dinkins was incomparable.
"On behalf of the Women's Caucus and all of the constituents in District 45, we send our thoughts and prayers to the Dinkins family during this time," she added. May she rest in power."
Louis said Mrs. Dinkins left behind two children, two grandchildren and "a legacy that strengthened the foundation of our city."
The post Adams, Louis pay tribute to NYC former First Lady Joyce B. Dinkins appeared first on Caribbean Life News.