News
Adams joins series of corridor cleanups in Bushwick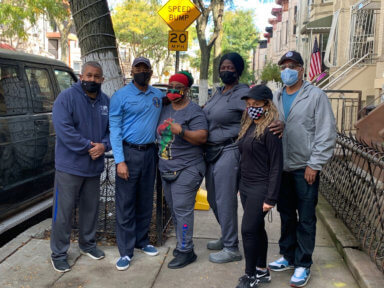 Brooklyn Borough President Eric Adams on Oct. 4 joined Bushwick residents and local stakeholders from the Cornelia Street Block Association and Goodwin Place in launching a series of neighborhood corridor cleanups.
Adams said the clean-ups are conducted in partnership with Brooklyn Community Board 4 (CB 4) and organizations like Clean Bushwick Initiative and Bushwick Youth Coalition.
The borough president said the event came in response to recent drastic budget cuts at the New York City Department of Sanitation (DSNY), "which has resulted in skyrocketing complaints about litter, overflowing trash cans, and other sanitation issues throughout Brooklyn and the rest of the city."
Adams also called for DSNY to adapt to their new budgetary reality by overhauling their response to sanitation issues and integrating more real-time tracking tools.
"Communities across our borough are contending with a major rise in sanitation issues, which have affected the bottom lines of already-struggling small businesses and quality-of-life for our residents," he said. "Letting New Yorkers' trash complaints fester in the trash pile of bureaucracy is unacceptable at any time, and it's even more dangerous amid a pandemic and economic recovery effort.
"While DSNY is struggling to adapt to a new budgetary reality, I have outlined clear steps they can take to engage with communities on particular areas of concern and modernize their outdated operations," Adams added. "We can't continue employing an eight-track mindset in a smart phone age, especially at a time when our resources are already stretched thin."
Earlier this year, the Adams noted that the City cut more than $100 million to DSNY's budget due to the fiscal shortfall stemming from the COVID-19 pandemic.
He said the cuts resulted in a dramatic reduction during the summer — from 736 to 272 — in the number of trucks emptying out litter collection baskets on city streets every week.
In roughly the same period, Adams said complaints about dirty sidewalks on the City's 311 hotline hit 2,922 in July and August, up 14 percent from the same period a year ago.
Missed trash collection complaints are also surging across the city, Adams said.
Earlier this month. Gov. Andrew Cuomo proposed sending in the National Guard to New York City to help address rising sanitation issues throughout the boroughs.
Adams said at the press conference that he would welcome such assistance in the immediate term, but that it would need to be coupled with structural overhauls in the way DSNY collects trash and engages with communities.
He also highlighted a recent report by New York State Comptroller Thomas DiNapoli finding that DSNY only uses Scorecard Ratings to monitor cleanliness, "a practice that dates back to 1973 and fails to account for other sources of data that are more up-to-date."
In order to make DSNY more responsive to community concerns, Adams laid out a five-point plan: Modernize DSNY's cleanliness assessment and integrate 311 complaints/violation summons data.
They are: Overhaul cross-agency coordination, with particular focus on streets that border multiple community districts; enhance community education on litter prevention and alternate-side compliance, and improved local engagement for real-time feedback on necessary adjustments to additional service needs; expand participation in the New York City Department of Environmental Protection's (DEP)'s Adopt-A-Catch Basin initiative, which Adams sparked through a pilot program to provide cleaning supplies to community groups to proactively clear litter from catch basins to avoid unnecessary flooding and other environmental issues; and recruit public-private partnerships to invest in better quantity and quality of local sanitation receptacles and service.
A list of all upcoming corridor clean-ups is available at brooklyn-usa.org. Anyone interested in organizing a clean-up in partnership with Adams' office is encouraged to email [email protected].
"I am inspired and excited by the community groups standing up all over our city who are saying 'why not me?', who are organizing block by block to bring the beauty, pride, and cleanliness back," Adams said. "Quality of life takes government playing its part, businesses playing their part, and residents playing our part.
"This kind of civic engagement must supplement the reforms we are calling for at DSNY to make our borough and city more livable for all residents," he said.
The post Adams joins series of corridor cleanups in Bushwick appeared first on Caribbean Life News.