News
Adams honors COVID-19 heroes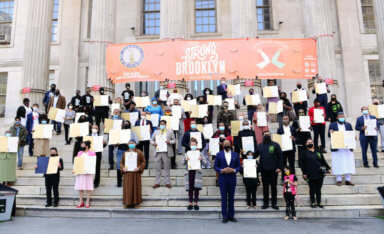 Brooklyn Borough President Eric Adams last Tuesday held a special "COVID-19 Heroes" ceremony at Brooklyn Borough Hall paying tribute to people who have made a difference in their communities during the coronavirus pandemic, as part of his regular "Heroes of the Month" event series.
Adams said those who received recognitions represented the diversity of Brooklyn and the diverse range of largely unsung heroism on display in recent months as the borough and city battled the virus.
"When some were looking to divide us, these heroes demonstrated through their selfless actions that we are more powerful when we are united," Adams said. "These past six months have been among the most challenging in our city's history; but, instead of losing hope, these heroes spread light in a dark time and showed our country what true grit and resilience looks like.
"It was my pleasure to recognize these heroes for their contributions, and I thank them for their tireless efforts to help their fellow New Yorkers during the pandemic," Adams added.
More than 80 honorees attended the event and received citations on behalf of the borough of Brooklyn from Adams.
The post Adams honors COVID-19 heroes appeared first on Caribbean Life News.