News
69th Precinct, LEAD*N, Explorers commemorate 911 with cleanup in 19th SD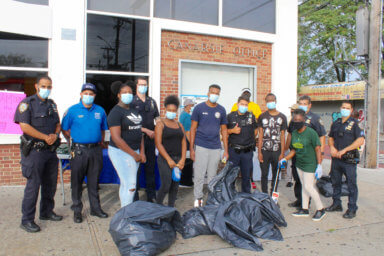 Commemorations to honor the September 11 attacks (911) were certainly different this year, due to the coronavirus pandemic, but supporters of Leaders Engaging in All-Round Development (LEAD*N), and the 69th Precinct, in collaboration with Senator Roxanne J. Persaud office, on Sept. 10, rolled up their sleeves to clean parts of the 19th Senate District in Brooklyn.
NYPD police officers of the Community Affairs Unit, of the 69th Precinct, the Explorers, and residents wore masks, and practiced social distancing in keeping with CDC guidelines, to help pitched-in, and haul away multiple bags of garbage.
Against the backdrop of signs that read: 'The Only Cure for Litter is You,' 'Green City Clean City,' 'My Dream City Keep it Clean,' the team cleaned Rockaway Parkway, Glenwood Road, Brownsville, and Canarsie, to pay tribute to those who died on 911.
Police Officer Gonzales PO. Maria, PO Young, PO Gotay, PO Saleh, said they were proud to be a part of the cleanup campaign.
Gonzales added that the 69th Precinct works to address issues in the community that are not all crime related, some are quality of life issues.
"The campaign was a total success", said Jennifer Viechweg Horsford, founder of (LEAD*N), who added that the 911 Clean-up tribute celebrated bravery.
"We are trying to be bold enough to tackle the garbage situation in Canarsie. Every year, we provide this opportunity for the students' service project, while we honor those service members of all walks of life who came together on Sept. 11, 2001.
"The NYPD has always been a great partner and every year the Explorers and the community affairs come together to support the campaign. Today we moved 20 bags of garbage," said Horsford.
"Our children need to live and play in an environment that is clean. We want them to know we care. If we send a message of cleanliness, people will act differently. If we share love to the community, then the area would be more loving, and less hostile."
Horsford envisions trees planted along litter-free sidewalk. "That is what everyone deserves, she added.
The collaborative effort of merchants, including, Barber & Beauty Salon, on Rockaway Parkway, the NY Sanitation Department, UNSDG Health Evangelist IjealJoseph, Canarsie Cycle of Resilience Street Team, helped to haul away rubbish that has become a health hazard and eyesore, in the district, more so in bushy areas where household items are being dumped.
Horsford thanked the LEAD*N planning team, Science and Resilience Institute: Canarsie Street Team with Clover Dewar, Princess Cronneitt with Devine Explosion, the 69th Precinct Arts Program, Anita Coley, Michelle Singh, Sanny Noray, Narsha Joseph, Tangerine Clarke, Jenine Viechweg-Johnson, Veronica D. Andrews-Barrow, Lucina Clarke, Gerry Hopkin, and Senator Roxanne J. Persaud for her guidance.
The post 69th Precinct, LEAD*N, Explorers commemorate 911 with cleanup in 19th SD appeared first on Caribbean Life News.